Cutson, Big Brother and the end of Episode 2
The relaxtion in Russan is coming to an end. Tomorrow we cycle on to confront the alps after 3 great days rest...

After Danny's confessional blog in which he outlined his inexplicable anger I feel it necessary to respond to aid in understanding this as well as how 3 brothers work when living in each others pockets.

We haven't lived all together for more than a week or two at a time for 15 years so to be all together again, doing absolutely everything together is challenging - riding, filming, eating, even campsite showers are often communal! We can even hear each other sleeping/snoring through our tents, for Danny you only need to be within a kilometre or so! We feel we get on extremely well but at times it can at times be surprisingly hard especially when you throw in physical exhastion from cycling and mental strain from being in front of the camera.

Danny is defintely the most emotional of the brothers, hence he was the first to show his emotions in this blog and justifiably sympathy always follows when someone admits their faults. Poor Danny hasn't done any long distance riding like this before and it is draining in all ways. Its good that Danny can admit his anger but that doesn't seem to stop it occuring so what are Ben and I to do?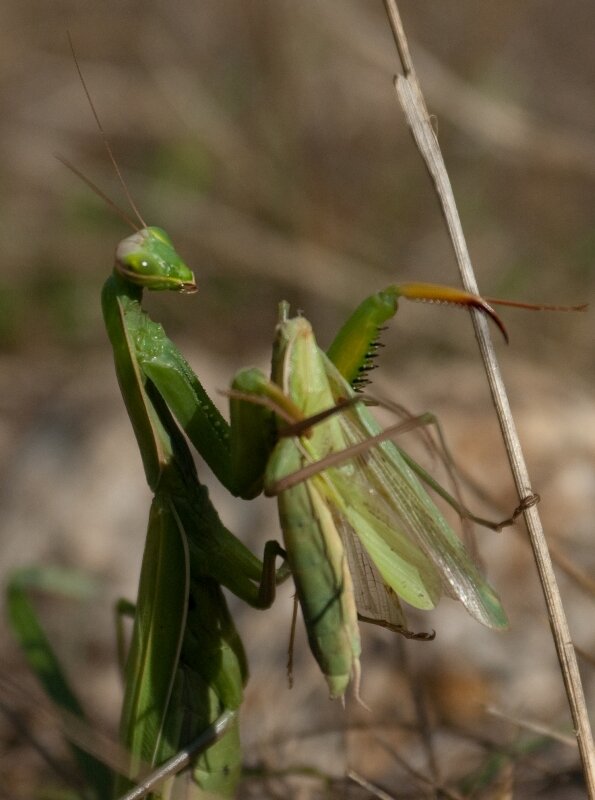 It was hard to find a photo of this topic - maybe this will do?

His moods affect everything we do but should we tolerate them indefintely as brothers maybe should? Or pressure him until he snaps? Its hard, I did try the second method about 10 days in. We had been riding for a hour or two, Danny's face showed he was not enjoying the morning at all so being tired myself, and not in a tolerant mood I thought why don't I bring this anger to the boil now rather than let it simmer for rest of the morning? I don't remember the exact words, I think it was something simple like 'Is it cutson time Danny?' Cutson means angry - This stems from when we were kids and in exactly the same situation we would scissor our fingers in a cutting motion (cutson or cutty cut cut) to drive someone who was angry into a berserker rage - it always worked. Just like 20 years ago, anger levels rose fast, but rather than flying fists or screaming tantrums as may have occured in times gone by, Danny was quick to try to say something cutting, but then got over it.... Maybe this is the best method, maybe its good to get the anger out early rather than tolerate it indefintely?

Anyway...After Barcelona our plans to return to the still warm trail we left in southern France were almost thwarted... After waiting in a 20 minute queue, one of the Wood Brothers tried very hard to buy tickets to Nimes (350 km past our destination and 60 euros more expensive) if our credit cards had worked! Luckily he failed in his attempt to throw us off Hannibal's trail!

We had a week till we met the crew again in Arles, 350km away so we felt that the best thing to do was cycle fast, get there and relax. However, day 1 was terrible - a head wind known as the Mistral drove us nearly backwards and French drivers are shocking! You would think being a huge cycling nation they would be good to us on our bikes but they skimmed our panniers all day and we really missed the Spanish who were amazingly curtious to us when we were riding. This reminds me - As we were packing up our bikes at our campsite in Ampurias, two gardeners stopped their small utility vehicle to tell us that they said they were very proud of us and impressed by us attempting such a long ride for a cultural cause rather than sitting on the sofa and doing nothing! This actually left us feeling quite guilty as we had given their fellow workers the remains of the pig.....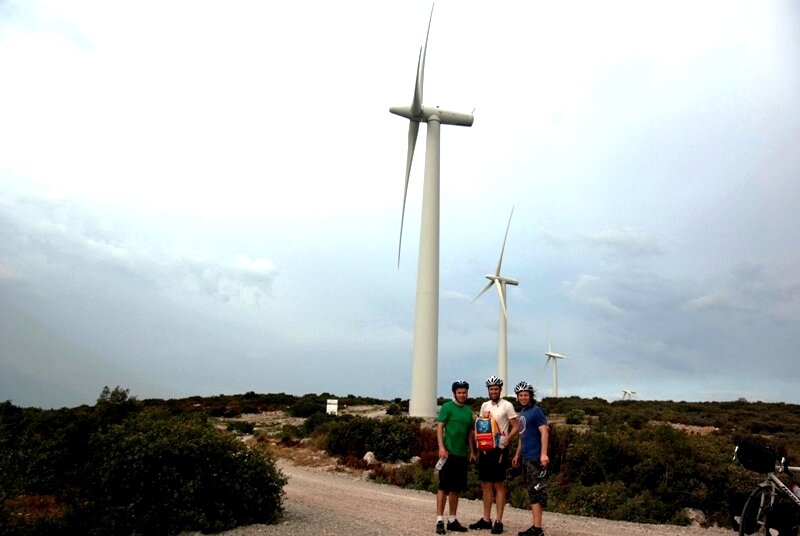 Windfarms - not good places for cycling!
Back to day 1 and we were wondering whether we would get any days off after cycling against the wind and the French all day. As dusk fell and we found ourselves 60km short of our destination we were aided by David of Fuella who guided us out of the windy valley and to a town called Durban Colombiers. The place we stayed at was odd but great - in the shadow of a ruined chateau - the proprietor was an old man who seemed incapable of moving his eyes from his computer screen, he was also suspiciously protective of his internet password and made sure no one could see his monitor. We came to the conclusion that he was either halfway to finding a cure for cancer or had a mammoth collection of porn
The next few days we rode on and enjoyed some of the best cycling we have had - small lanes winding through acres of vineyards, medieval hill top towns like Pezenas, Sommieres, Uzes. Ben's heart rate sat at 160+ most of one day, we are still not sure whether it was the volumes of coffees and coke he was drinking, maybe the religious guy who tried to convert us in Narbonnes got his heart racing (we told him we were Jewish then Muslim but nothing put him off!) or maybe he was genuinely ill. Danny cut his finger on Ben's leatherman, cutty cut cut!!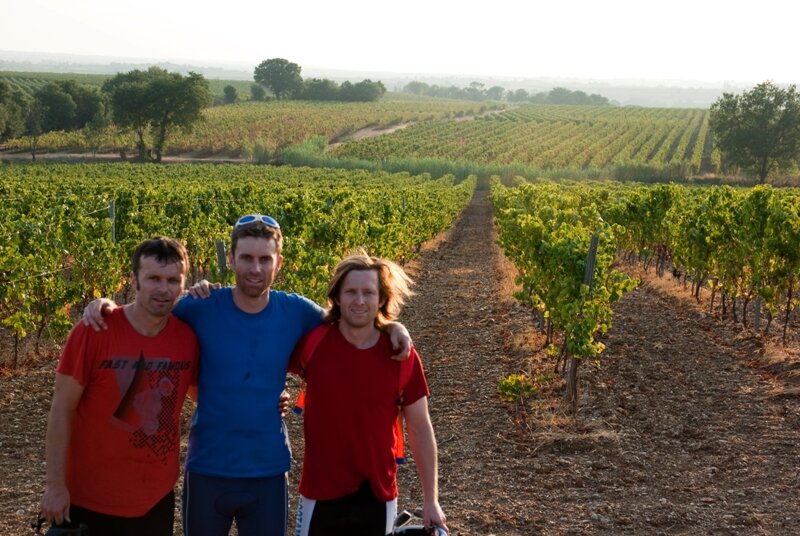 Vineyards - beautiful riding!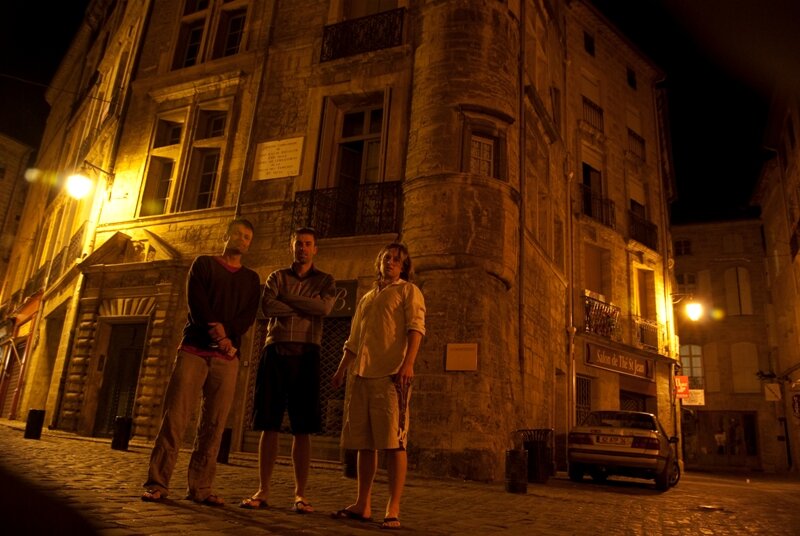 Pezenas - classic medieval town

We finished up here in Russan, a tiny authentic French town where we have recouped fully with wanders to the boulangerie in the mornings and touristy visists to places like the Pont du Gard - along of course with regular sleeps and big meals provided by our parents- Its excellent to be 30+ and still be taken care of!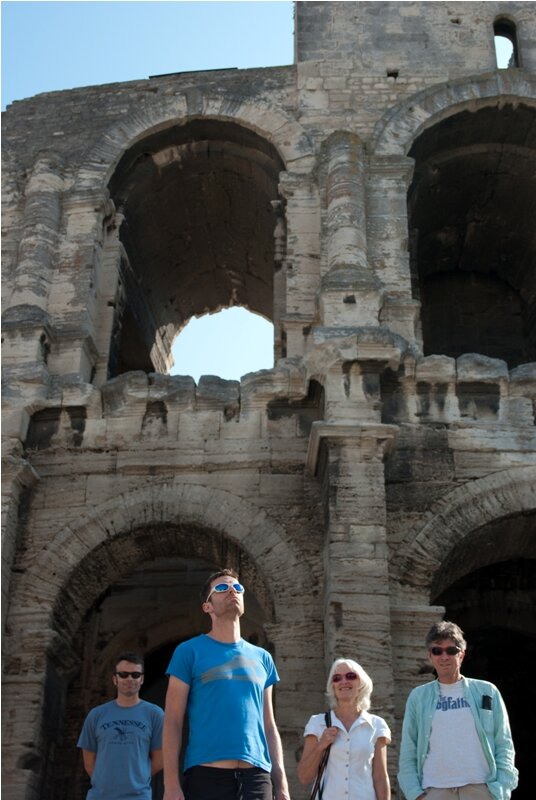 Wood Family go to Arles
Statistics for Episode 2 - 879km Saguntum to Russan, Total Kms ridden 1440, Crashes 9 (Danny 7 Ben 1, Sam 1 - all minor and mostly when the bikes were not moving)

Tomorrow we ride on to Arles and Episode 3 begins as we cross the Rhone, hopefully on some sort of raft we will construct ourselves!
---