El Presidente, sheep and the universal necessity of causation
And so to the last stage of our trip. Tunisia – a land dominated by President Ben Ali who was fresh from winning a recent election with 90% of the vote. His picture features in every cafe and car and on every street corner. We arrived at the ferry terminal in Tunis under his gaze and got a little worried when Sam was taken away by a dozen Police to get a visa (Sam is the only one of us travelling on his Australian passport I'm embarrassed to admit!). There seemed to be thousands of different sorts of Police and border guards wandering about and we all became a little concerned as to what sort of freedoms the people of Tunisia enjoyed. But then the representative from the Ministry of Culture who met us at customs quoted Kant at us – "free will is inherently unknowable - even a free person could not possibly have knowledge of their own freedom. So we cannot use our failure to find a proof for freedom as evidence for a lack of it." So I asked if he thought Ben Ali considered the universal necessity of causation, the synthetic nature of mathematics and the Newtonian absoluteness of space and time in his rulings? Luckily Sam arrived intact with his visa at this moment so he couldn't answer. And seeing as it was getting late, he had filled in my visitor's card for me and got me through customs without the border guards even looking at me we continued on into Tunisia without an argument.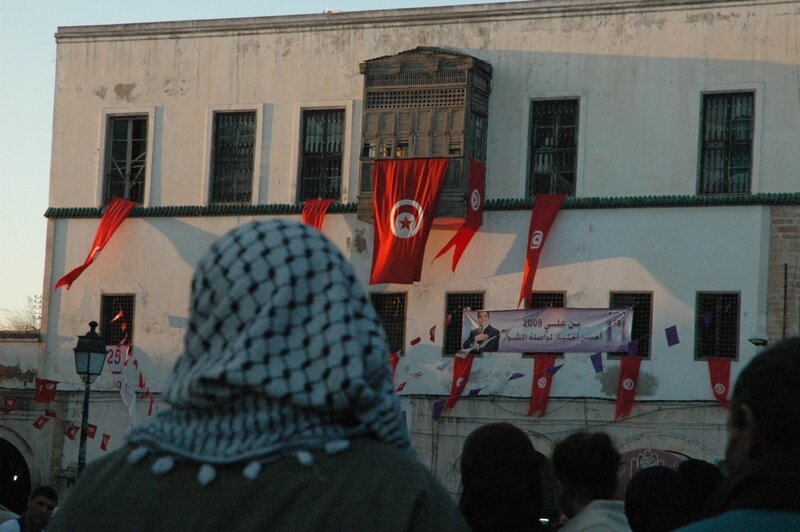 Typical Tunis skyline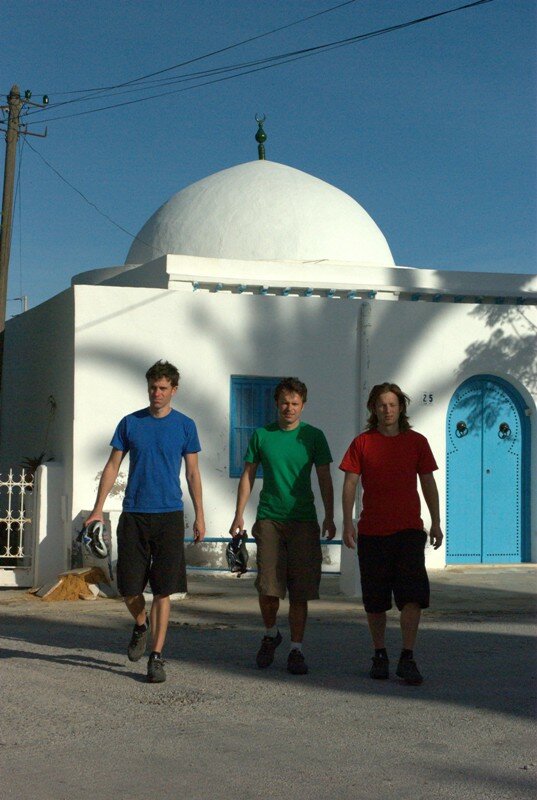 Top Gun
Our first day here was a rest day which we always seem to spend searching for bike shops to restock. We'd got some dodgy inner tubes in southern Italy – the valves would fall out shortly after pumping them up! Unfortunately our new Tunisians ones weren't much better and a couple of days later we were cursing them as we spent a tense 50kms in the middle of nowhere with no spares praying we didn't get a puncture. Tunis has a great atmosphere though and the people are very open and friendly. We visited Hannibal's home town of Carthage most of which is covered in Roman rather than Carthaginian ruins. It also seems to be one of the wealthier suburbs of Tunis. Nice big modern houses ring the ancient Punic twin ports and President Ben Ali's palace is just to the north. We weren't allowed to film in that direction and if we strayed too close a bloke with a machine gun would come and tell us off.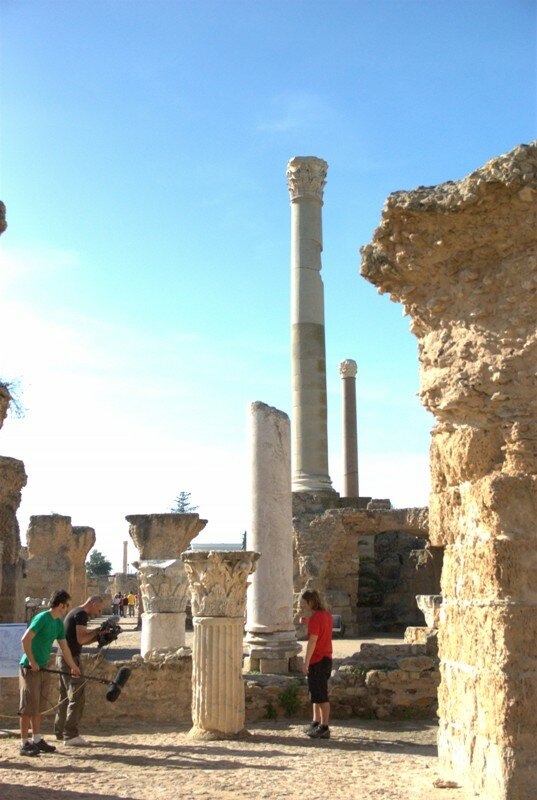 Antonine Baths at Carthage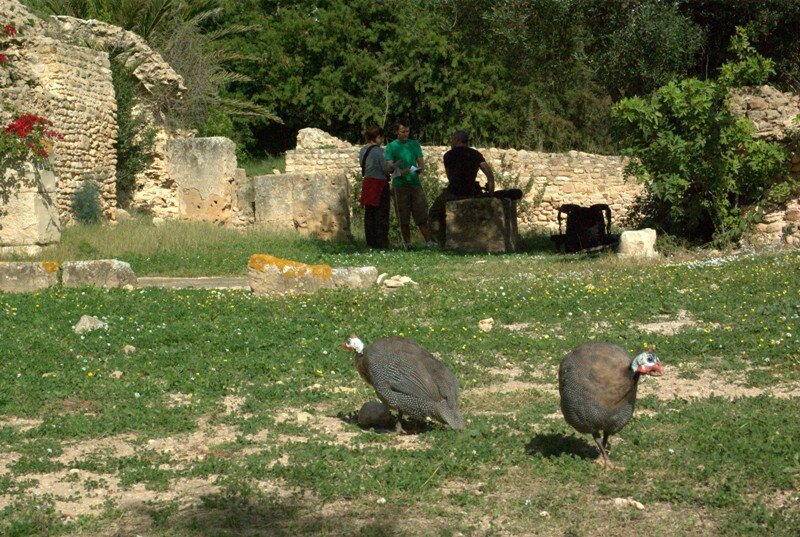 Turkeys in Carthage and some strange birds in the foreground too
We had lunch in a cafe called Uranium – we assumed they named it that as it took the half life of uranium (4.5 billion years) for your order to arrive. So after quite a long wait camera man John endeared himself to the waitress by demanding tomato sauce. She was also about the 4.5 billionth waiter/waitress he had aggravated on our trip so far. After some more filming and riding we had dinner in an amazing restaurant (we are eating a lot) that used to be a sultan's palace – the resident sitar player asked where we were from and then started playing the Australian national anthem! Impressive, but it is one of the worst national anthems in the world don't you think??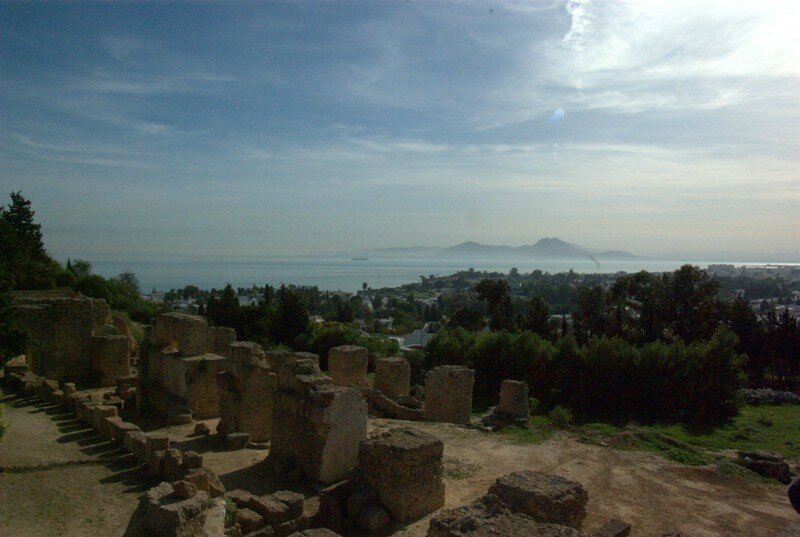 View from the Byrsa Hill over Carthage
Anyway after a few days of travel, a rest day and some filming days in Carthage and Tunis we were wondering if we would be capable of riding 120kms inland towards Zama – the site of the last battle of the Second Punic War. We had no idea really what the roads where like or whether Tunisian drivers would run us over without a second thought. But after some navigational issues getting out of Tunis and a quick stop at a bike shop where Mehdi, a former cyclo-cross champion of Tunisia sold us some new water bottles – the old ones had gone irretrievably mouldy, we found that Tunisian drivers were actually really good. Not as respectful as Spanish drivers perhaps but certainly better than Italians.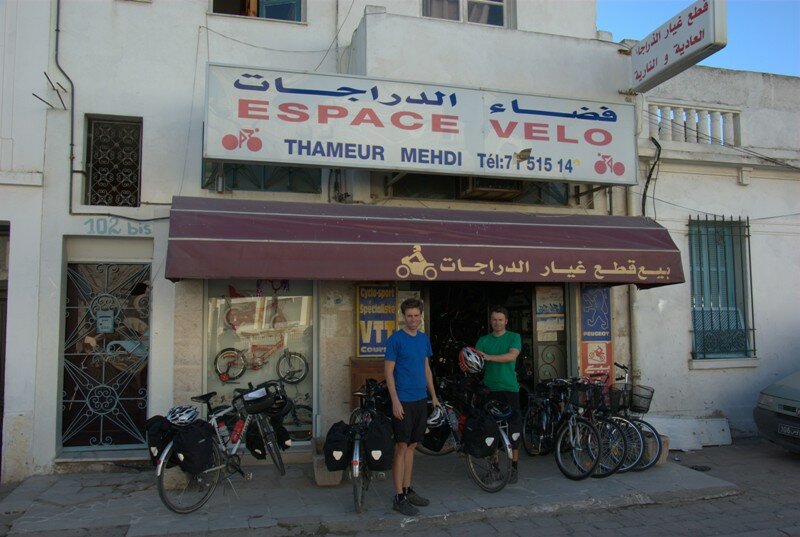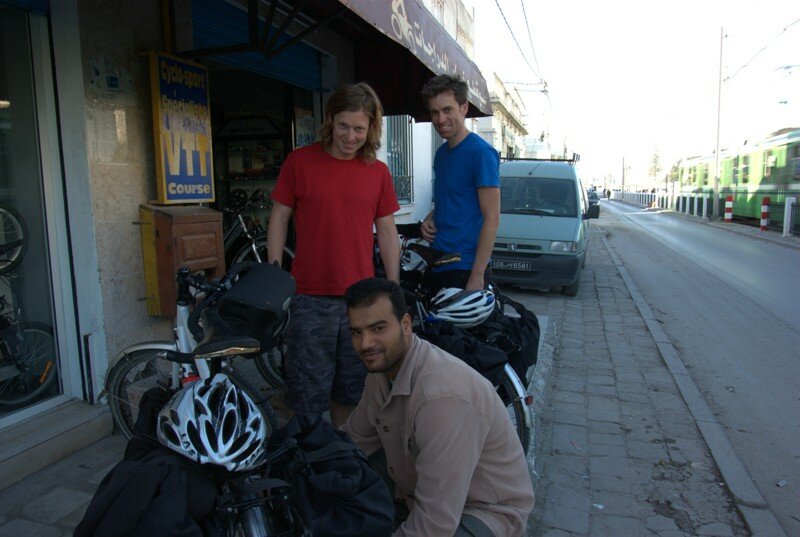 Mehdi Thameur outside his shop kindly greasing our chains
It turned out to be a very long day but completely different riding to anything we had done previously. Riding through dirt poor towns on a bike that would probably feed the entire village for a year if they sold it wasn't the best feeling. But the kids would scream at you – usually in a friendly way we thought until a rock bounced between me and Danny and then we started to wonder! No really everyone seemed very friendly and lunch was at a roadside restaurant. A kilogram of barbeque sheep and a very spicy mixture of tomato and chilli was on the menu. The next sheep in line was tethered to the bbq – waiting for his turn while his brother cooked!
We passed an amazing ruined Roman aqueduct that seemed to go for miles in either direction and the last 10km of the day were really very hard work...but only a few days of riding left...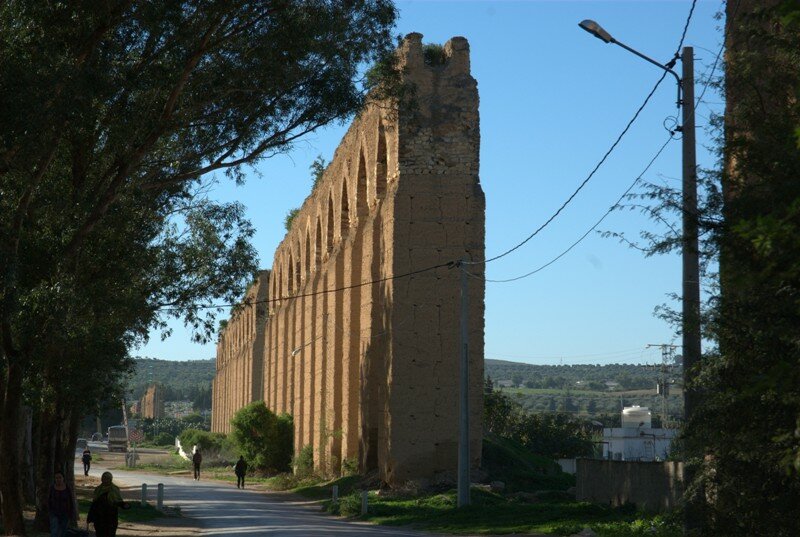 ---