We're back with the crew again at a campsite near Naples. I've had one beer and a swig on a bottle of wine and dinner should be soon but there could be time to write about Tarento, a strange place but well worth a visit. Tarento was one of many southern Italian cities where the people were split between supporting Rome or Carthage. Today the people there still seem a bit split, almost schizophrenic. We rode in from Altamura, about eighty kilometres away, through an industrial area and crossed a bridge into what looked a bit like a deserted cowboy town on a bad day. There was a steady flow of traffic that circled around the outer rim of this old part of town that forms an island connected to the mainland by bridges at either end. This was originally the citidadel area where the Roman garrison managed to hold out against Hannibal even when he had won over the rest of the town. There's a squat castle on the site of the Roman citadel that is still in use by the Italian navy. You do see a lot of sailors wandering about town - one of them came across the three of us having breakfast in a cafe. He strolled in and he got so close to me I thought he was going to put his white hat on my head, but instead he put it down on the sideboard next to me without diverting his disapproving glare. His reason for not liking us probably had something to do with our dress sense. In this more conservative part of Italy what you wear seems to be the most important thing on earth to a lot of people. It was pretty cold but we were all wearing our baggy, cycling shorts, an assortment of dirty T-shirts, and Ben and I had white slippers on that we picked up at a hotel. To him, we probably looked like eastern European labourers about to go to work on a building site. We couldn't help laughing at our predicament - in the mind of this Captain, there we were, not only insulting the local fashions but taking Tarentine jobs too! Ben suggested we ask him why Italian tanks have more gears in reverse than forwards, but in the end we let him to have his coffee in peace. Peace man! If only more people had the same attitude.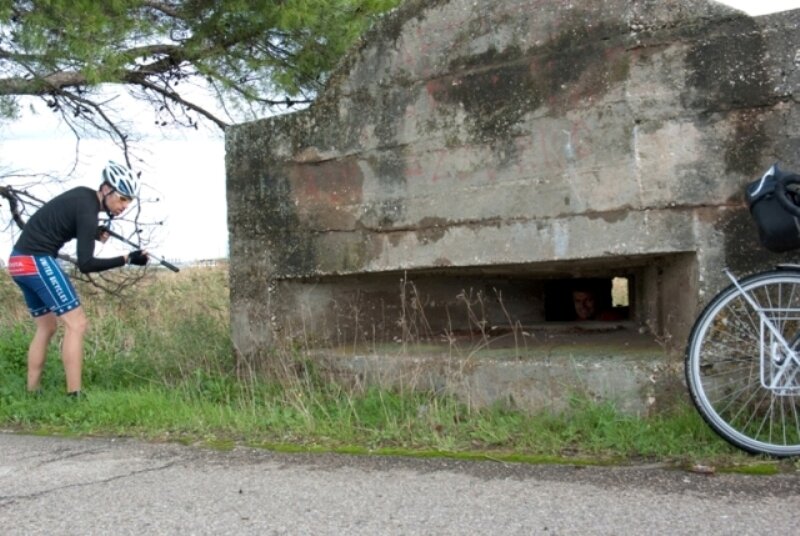 Ben hunts Danny and Sam at a WWII pillbox near Tarento
This old part of Tarento had plenty of atmosphere with its narrow alley ways and Naples like conglomeration of low-rise appartments. Quite a number of the buildings had signs on them indicating they were former palaces so you couldnt help but wonder why the glory days had faded. That's something we are yet to find out. In spite of its ruined state, the old town was very lived in. Outside our bed and breakfast you could look out the window at most times during the day and spot the same collection of half a dozen men (who looked like they were not sure if they were auditioning for Dad's Army or Little Britain) standing around chatting.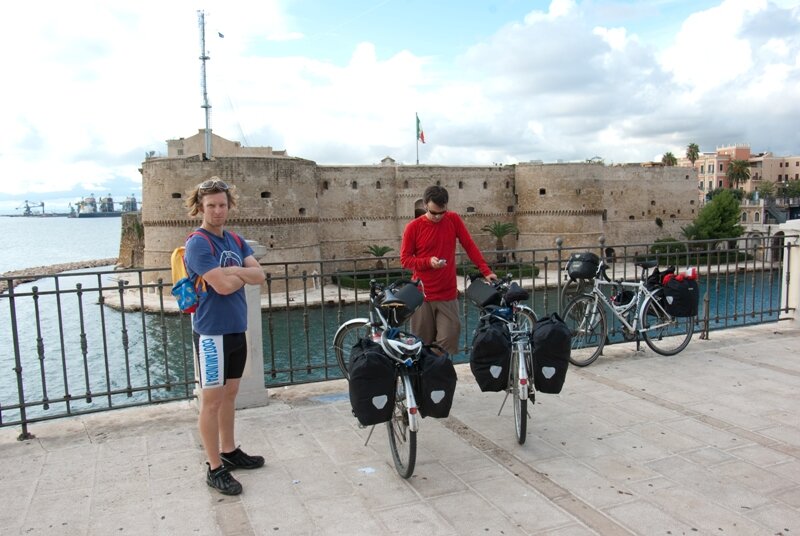 A pause in the sun with a view towards the castle in Tarento
The pizzas we had for dinner on the corner opposite us were very good, but the restaurant where we ate the next night gave us a shock. The hostess in this family run place was so friendly when we entered that we readily accepted her immediate offer of antipasto as we sat down. When our hostess didnt present us with menus and instead gave us a verbal rundown of a limited number of dishes, we assumed we were getting the fourteen euro fixed menu that our helpful bed and breakfast woman had told us about. The undrinkable wine seemed to confirm that we were getting a bargain basement dinner. We had to laugh when the bill came to ninety-five euros.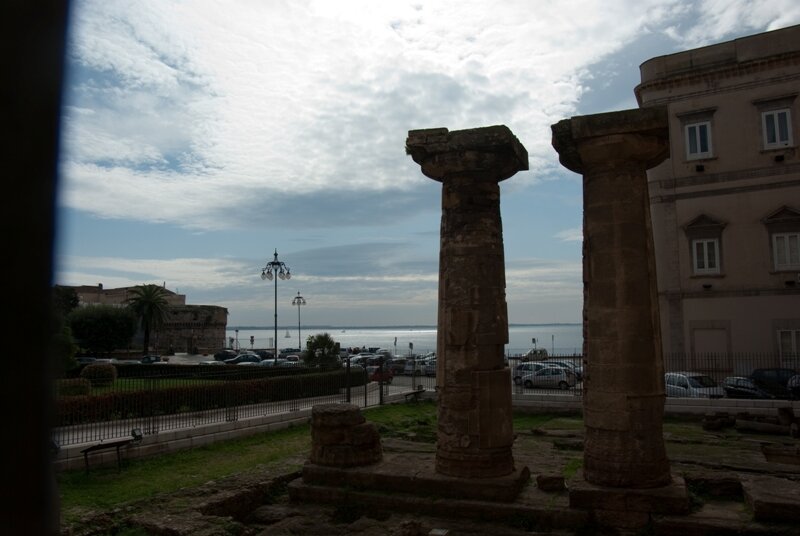 Hannibal would have seen this Doric style Greek temple in the old quarter of Tarento
Tarento's surprises kept coming. When we ventured into the newer part of town across the bridge, we found a swanky pedestrianised promenade lined with smart shops and busy with relatively wealthy looking locals promenading around. A pretty place with well kept buidlings, plazas with palm trees and only across a small bridge from the neglected old town. There is even rare archaeological evidence of Hannibal's presence: difficult to see under a fogged-up, perspex covering alongside a cafe, there's a section of what is thought to be part of a wall built by Hannibal's forces when they occupied the place. There is also a good archaeological museum with lots of quality Roman remains including armour, jewellry and mosaics.

Our next stopping point of note was Bari, another coastal, southern Italian town. We had to find bike boxes here to pack up our cycles onto the plane we were catching back to Milan where our crew would be waiting to resume our Hannibal filming. Ben and Sam were concerned about our prospects of finding boxes but we managed to locate a very friendly bike shop and had a fun night-time bike ride to reach it. The owner was jovial and happily handed over three big rectangular boxes that we managed to balance under one arm and cycle away with. It was another busy evening of promenading Italians and we stopped at a flea market on the way back to get some presents. A couple of friendly old men enjoyed looking closely at our bikes as we paused to shop - it seems that everywhere we go old men stop and look at our bikes!

We caught our plane without incident - although it did look like the bikes in their big boxes were too big to fit into the taxi minivan. But the driver was a dynamo and somehow got the boxes in with a bit of a push and shove. We were soon at the airport with over an hour to spare, munching on expensive airport pastries and coffees and contemplating the next filming leg of our adventure.

And now we are inside this adventure again and for these final two episodes we are led by our Director Andrea and so far it has been a whirlwhind of productive shooting. Today, Robin, our Series Producer and Director for the first two episodes has dropped in to pay us a visit. It was nice to see him and he brought us books to read and expressed concern that after eight weeks on the road we probably felt cut off from the outside world. We do feel that way and even though this cycling and filming is a lot of fun and we are certainly looking forward to what's coming up, we are in some ways relieved that this unusual epic trip is entering the finishing leg.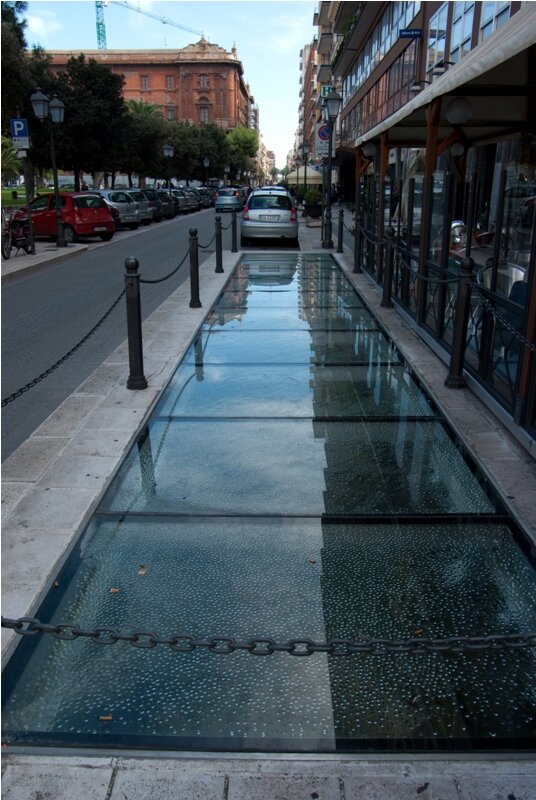 Under perspex in the main square in Tarento, the remains of a fortess wall possibly built by Hannibal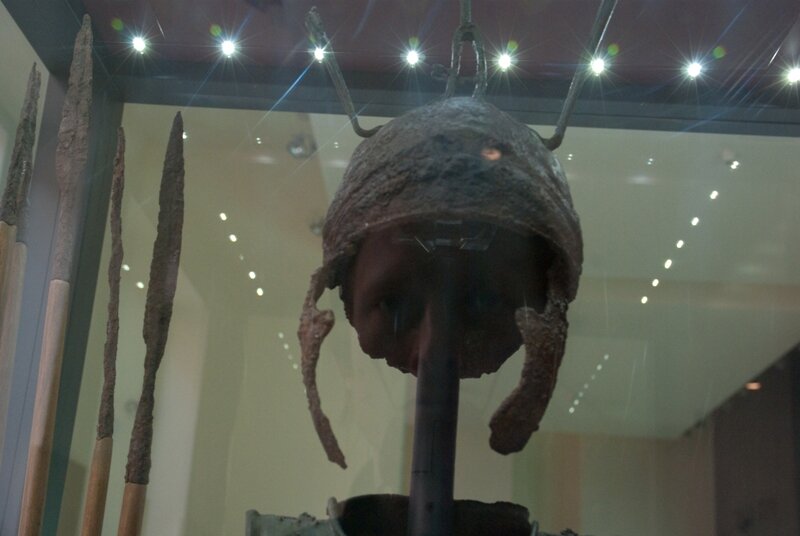 A mysterious, ghostly face appears in a photo taken in the archaeology museum in Tarento
---