A few years ago we were riding in Germany and learnt the Imperial point. A large group of cyclists was coming towards us and as they got closer we realised they were a huge professional cycling team. The leading cyclist sat up in his saddle and slowly and arrogantly pointed towards our side of the road - meaning "stay over there you peasants". It was one of the best things that has happened to me and we all use it regularly - mostly on cars but also sometimes on cyclists who don't seem to know where they are going. So as Sam was crossing Traversette (which by the way is much harder than Clapier!) Danny and I went for a little ride from a great little place we were staying in called le Fontenil. This was Sam's base before Traversette and it was run by the nicest person in France - Jean-Pierre - he made us breakfast having been up till 4am with a bikie gang he also had staying, he let us use the kitchen to cook our meals, we used his van whenever we wanted, he made us dinner, we basically had the run of place and if we had burnt it down I'm sure he would have smiled and said no problem. Unfortunately as I returned from my ride a car came flying around a corner on the wrong side of the road just in front of me. I was nearly home so I Was a bit tired and irritated so I automatically sat up and gave it the Imperial point - but just as I was straightening my left arm the driver lifted a hand to wave - got halfway through his friendly gesture and his jaw dropped and there was hurt and confusion in his eyes as he saw that I wasn't actually waving back but telling him to p*ss off onto his side of the road. It was all over in a second and the driver was Jean-Pierre! I had just insulted the nicest bloke in France. It was never mentioned but there was a palpable tension between us for the rest of our stay. I looked on jealously as he fulfilled every whim of my brothers and the crew and I felt too guilty to ask anything of him. Luckily I am the middle brother and am used to being deprived (mine's worse).

The final affront was on our last night of three there - Jean-Pierre had been running around after us for days and at last he sat down with us for a glass of wine and a rest after dinner. He'd been there all of 5 seconds when someone said "can I have a coffee". We all groaned sheepishly as the poor bloke was up like a shot to fetch it...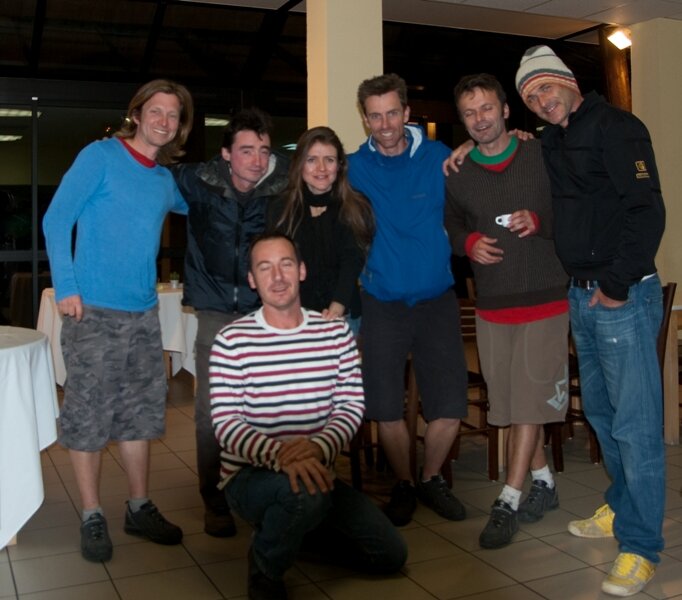 Everyone at le Fontenil - Jean-Pierre kneeling at front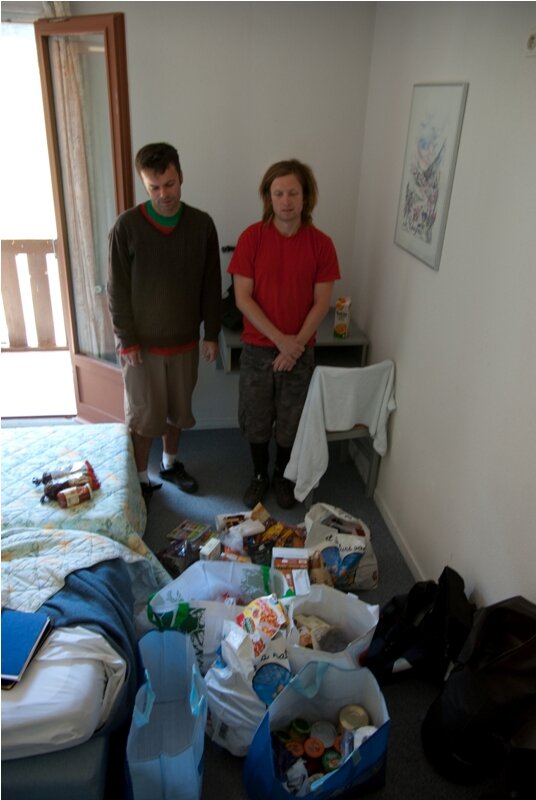 All the shopping we inherited from the motor home. We tried to carry as much as we could over Col Agnel
So Sam arrived back from Traversette completely exhausted - perhaps the tiredest I'd ever seen him - since the birth of his son Jack perhaps - and I'm not one to exaggerate. We had a day of filming in the Alps before the crew left us again for our solo ride through Italy. We were orginally going to leave from Turin but decided to ride from the Alps where we had regrouped after our solo crossings. To get out of there we had to cross the equivalent of Mont Ventoux - it was the Col Agnel - Jean-Pierre warned us it was very difficult. And it was - freezing cold too - the first really cold day we had had. We made it over after a long struggle but a beautiful ride and perhaps another route Hannibal may have taken across the Alps - all the locals seem to favour it at least. Once we had crossed into Italy we had a run of 50km downhill punctuated by a very good coffee.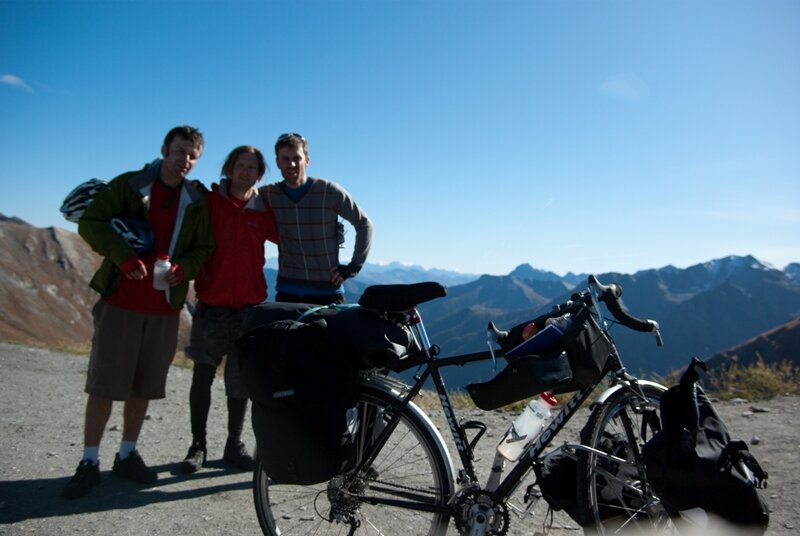 Top of Col Agnel - amazing views towards Italy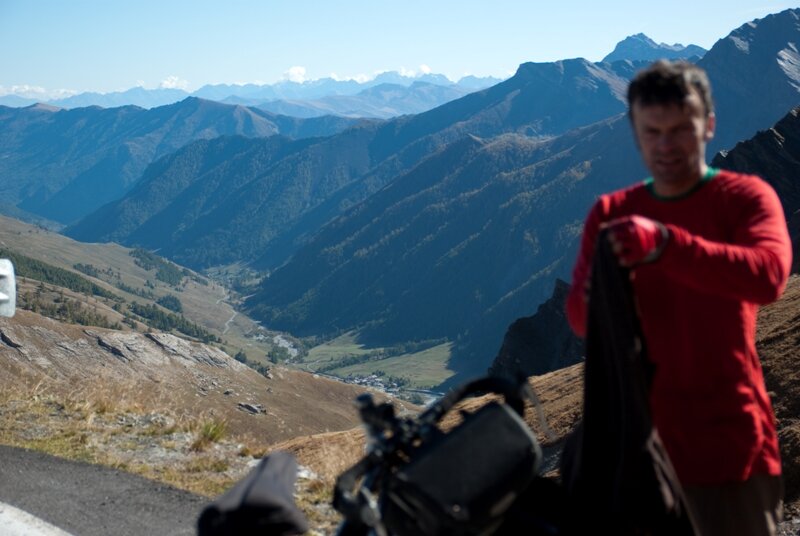 Descent to Italy I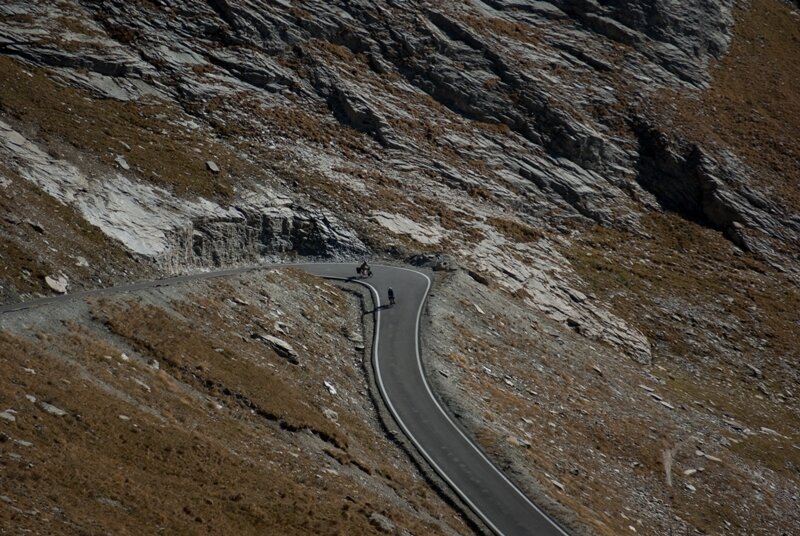 Descent to Italy II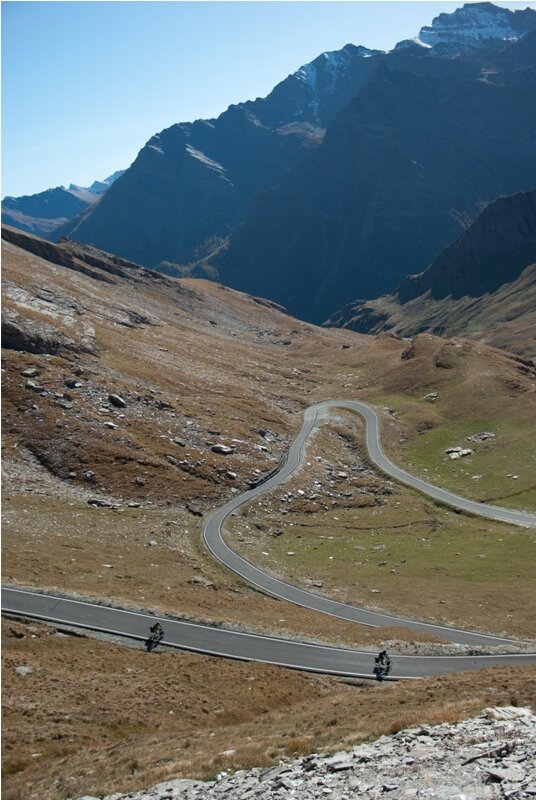 Descent to Italy III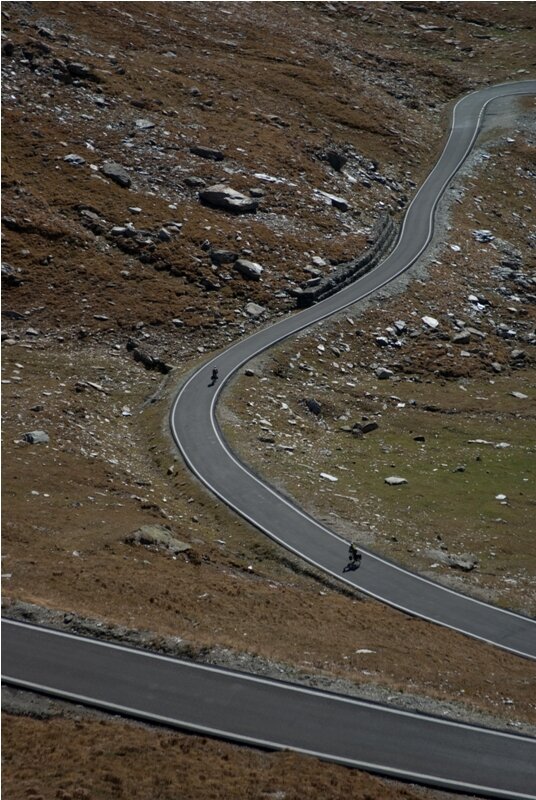 Descent to Italy IV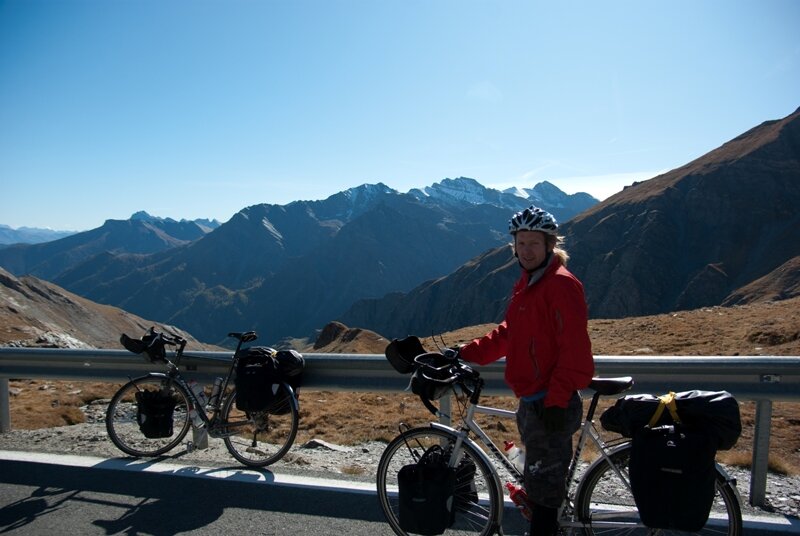 Descent to Italy V

We got as far as Piasco where we stayed the night in someone's house - they didn't seem very keen to let us in initially which was fair enough but by morning were happy to give us free reign in their house when they headed off to work. Next morning we rode on and cooked ourselves lunch in a little park in a town called Bra - with our diet we are concentrating on fragmenting elastines and accumulating lipofusion inside our liver cell. More importantly Bra is where we nearly learnt the true meaning of love. Our post lunch cappucinos came with Baccio chocolates that told us "love is a storm of pleasure and an enchantment of sweetness" - this seemed to conflict with the theory in a book we are all reading (we have torn it into three) that women invented love because during child birth they are weakened and need a powerful protector. Now, according to the author that women are strong, independent and free they have given up inspiring or feeling a sentiment that had no concrete justification in the first place! So we had very conflicting ideas to deal with as we rode on to Pavia.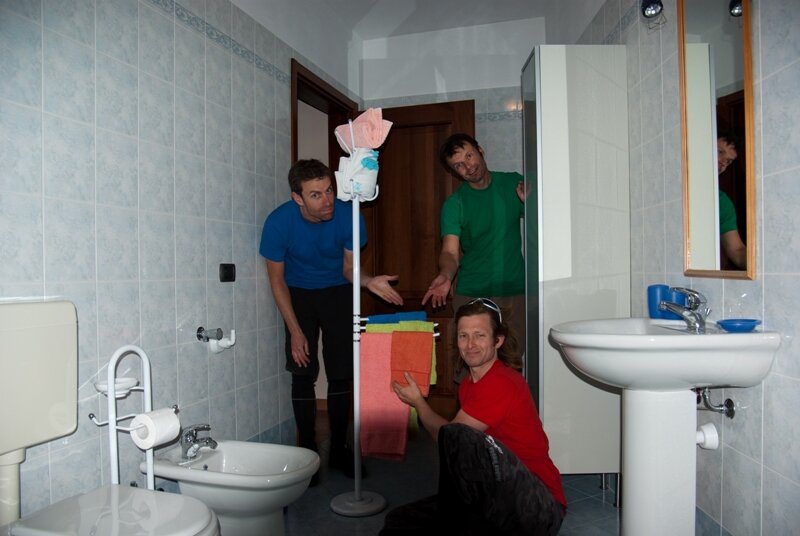 Bathroom in Piasco - they knew we were coming
The riding in northern Italy isn't great but we had been spoiled in the Alps. Its flat at least but very busy and drivers are impatient and aggressive. Unfortunately we had to take a train back towards Piasco as we had left some important equipment behind. Don't worry I have calculated using Sierpinski triangles and Mandlebrot sets that we have not cheated by catching this train. Anyway we watched a very bad horror movie during the journey - Drag me to Hell. We were wearing headphones and one very scary bit I yelled out and the whole carriage jumped and then looked giggled when they realised what we were up to. It reminded me of a similar incident when a bunch of bananas fell on my head when I was sleeping in a train ages ago travelling around Europe with my great friend Mat Gale. It was a huge bunch of bananas and it was the middle of the night in a boiling hot, packed couchette somewhere in Italy. I instinctively yelled and threw them off my face and onto a tiny South Korean girl sleeping in her seat opposite! I tried to explain but it was useless - I'd woken the whole couchette and I retreated, swapped with Mat and slept on the baggage rack in the corridor.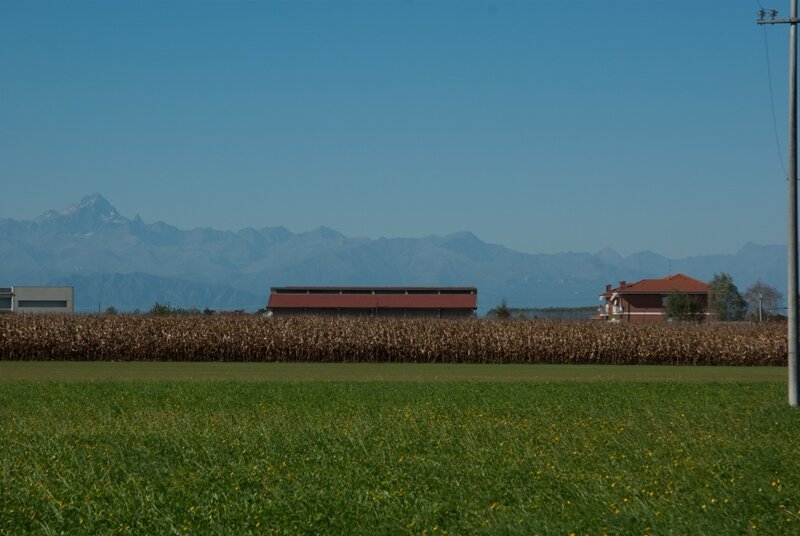 The Alps from Italy - Mt Viso is the big mountain on the left - Sam crossed just to the right of it
---