Palm Trees and Cycling Experts
Alicante, Benidorm, Denia...legendary places for the northern European tourist and we cycled in or past all of them during a day that now seems like another holiday! Some exhausting riding on hot and pretty horrid highways a lot of the time, but then we rode a quiet minor road inland from Benidorm and everything changed. We could see the skyscrapers disappearing in the distance as we climbed into forested hills - I didnt think we'd feel like we were in the Alps on day three! Our crew of Robin, Jason and John filmed us from the big home campervan with its open back window and (so they tell us!) got some lovely shots of us struggling up the inclines. At one point, as we waited for John to set up the camera to record us observing a magnificent view towards the resort town of Denia from a mountain top, we chatted about the need to be competent actors for the purposes of this documentary, which none of us are. I (Danny) was so tired I actually believed Sam when he told a long fib about how he performed the role of Julius Caesar in the Shakespeare play of the same name in a play at University. After five minutes of details from Sam, incuding "Well yes they decided to do a more serious play that year" and "Yes there were a lot of lines, but I learnt them okay", I was actually getting jealous of Sam´s acting pedigree when it finally dawned on me that Sam was telling a tall story. All I could think to say was, "That was a long joke!". Ben was so tired he laughed hysterically. What a contrast between this idyllice mountain ride and the highway between Alicante and Benidorm. After filming on the beach promenade in Alicante (that is dominated by it's adjacent multi-lane highway) we entertained the vain hope that the beach walkway might take us some of the way to Benidorm, but it stopped abrubtly and we had to back-track, ride along the main highway and pretty soon found ourselves in a scarey tunnel in pitch black with cars zooming past.
We've all had a puncture - Ben´s had two - here are Ben and Sam, after happily taking care of a puncture on a highway outside Cartagena.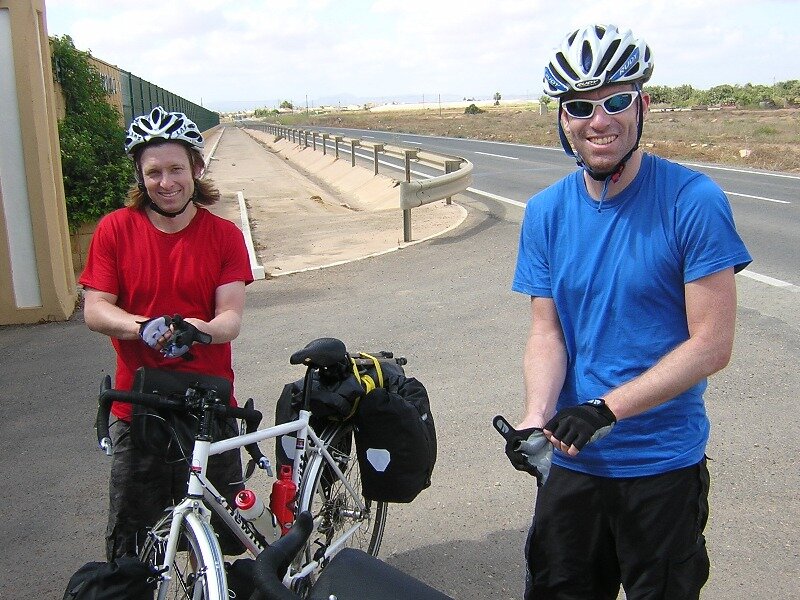 Riding along the promenade in Benidorm.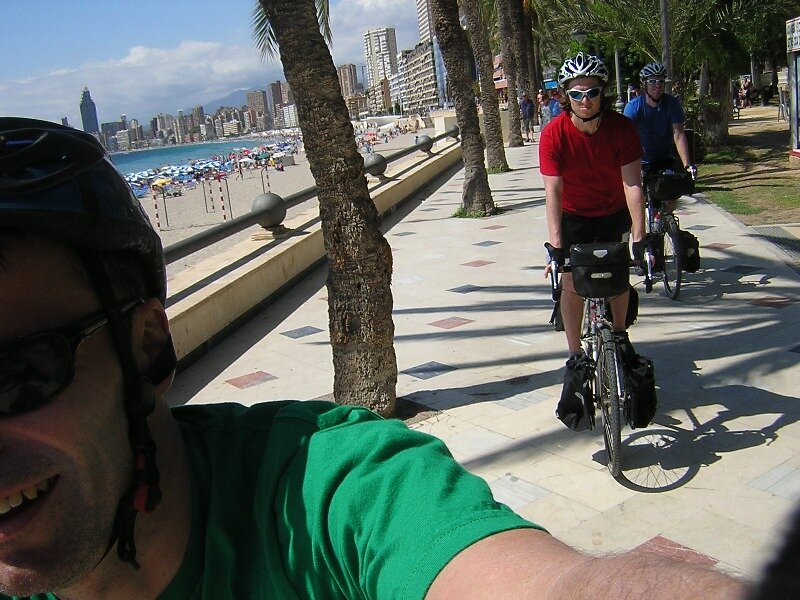 We lived to reach Benidorm which didn't disappoint if you are a fan of skycrapers (which I am) - but there are just too many of them here! But what a fantasic beach - two massive semi-circular curves of sand, on one side the sea, but on the other side a continuous line of concrete. From a distance it looks quite spectacular but up close it is a little depressing - and I'm the optimist of our group. You'd think that sort of attention to architectural beauty would kill the goose that lays the golden tourism egg, but even in this economic crisis there still seem to be plenty of people around, manning the promenades and eating in the restaurants.
After completing the 90 km to our campsite, about twenty km south of Valencia, we joined the crew for dinner in a modest little restaurant. We were very thirsty! The signs were not good when, as the waitress poured some of us beers, she declared that there was no water! (this should only happen in Australia I thought) Cameraman John - always charmingly angry about anything that might impact on us or him in negative way was about to get very upset - but when it turned out there was water, just no sparkling mineral water we sighed relief and sat down. But the warning signs were were back when it was clear the waitress was our chef as well, but she did a fantastic job and we dined, in record time, on tasty salads, steaks, chicken breasts and plates of grilled vegetables - and a few more beers and a bottle of wine. Her efforts now seem remarkable compared to where we had lunch today in Sagunto, or didn't have lunch. The first place in a small plaza near the town hall was also a one man show, but after twenty minutes of waiting to get a menu we gave up and left. Another option was another solo waitress/chef operation and was too busy to feed us and then we arrived at another place to find the the elderly waiter (and probably chef as well) closing the shutters declaring "We stop serving lunch at 4pm" (lunch in Spain often starts after 3pm). The supermarket was a much better bet.
Which reminds me, for some reason, that we are travelling with two great comedians. John our camerman, apart from being fantastic with the camera, is very funny, even when he is not trying to be. At a recent campsite when we were rolling in on the bikes some time after the crew had turned up in the campervan, he gave us a stark warning as we came in the gate. As he walked towards us with the campsite owner at his side, he mouthed the words "everyone is mad here" as the owner warmly welcomed us. That was funnier at the time. Jason, our location manager, apart from being a handyman whiz and brainstrust of practical suggestions is great for impersonations and witticisms. I mentioned that this sort of documentary life that was are lucky enough to lead at the moment, however fun, could be tough on relationships, to which he responded, "What's the problem! girlfriends and wives these days really have a cheek don't they? I mean, you're away for three months at a time, you're in Spain, it's practically a holiday, what are they compaining about?".
One place that might make a lot of people at home jealous is the town of Elche. This is possibly where Hannibal's father Hamilcar died saving his sons Hannibal and Hasdrubal from a surprise attack by Spanish tribes. The place is more like one big palm grove than a town and you really feel like you are in the Middle East rather than Europe. We have some great photos on our other, better camera which will go up on the blog very soon. For the first time on our trip, we spoke to two amateur cyclists who were passing through, one of whom seemed to regard himself as the most experienced and professional cyclist in the world and couldn't stop telling us about it. What a contrast with Mat Lloyd, one of Australia's best cyclists, taking part in La Vuelta, Spain's version of the Tour de France, that was passing through Alicante. We spoke to Mat in the morning on Tuesday before he got back in the saddle. His team - Silence-Lotto - was coming second at the time and had been first. Mat was as relaxed as you like and chatted to us like we were all surfing buddies.
That all seems like so long ago! We've already passed through Valencia and met some lovely sweet eyed elephants and today visited the fantastic castle ruin of Sagunto (Hannibal`s siege of this town in 219 BC started the Second Punic War). More on those in our next installment..
Filming in rice paddy fields south of Valencia.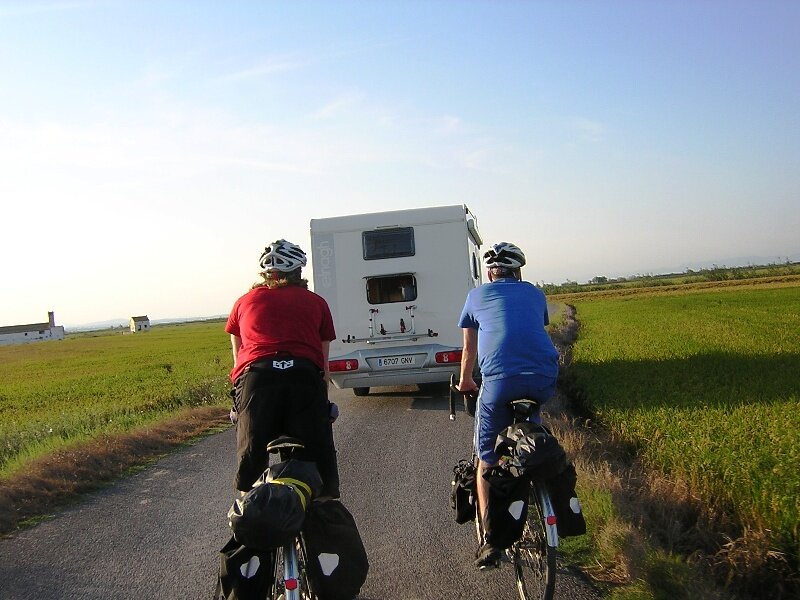 The masters behind the lense, left of the camera in the hat is cameraman John and to the right is Director Robin, in the old town of Sagunto before we head up the hill to film in the castle ruins.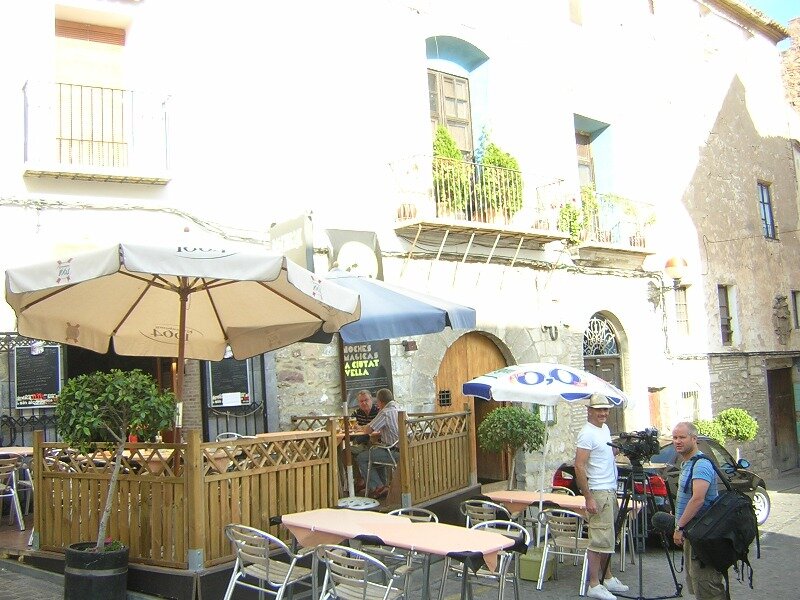 ---