Rice Paddies, Deliverance and it Rained
Nine days on the road and we all feel quite tired. Dinner tonight was much less noisy than it was back at the beginning of our trip in Cartagena, but we all feel much more at ease together - silences are very comfortable. It is strange though when the the only time you get to yourself is in bed, on the loo or in the shower. I am writing from a campsite in the town of Elne on the French side of the Pyrenees. Internet access continues to be a bit tricky because of filming, long rides and late arrivals at destinations and so there are a few blog days to catch up, starting in our campsite on the beach south of the Ebro Delta last Sunday that seems like a month ago. This was a rest day but after it we didnt really feel rested at all. Our muscles were still are stiff from riding and we all have a strange drained and slightly dazed feeling that doesnt leave us. It was a real physical struggle to get going at 730am but we were all looking forward to visiting the Ebro Delta, touted as home for Europe's biggest population of migratory birds and a protected natural park.
Cycling in the Ebro Delta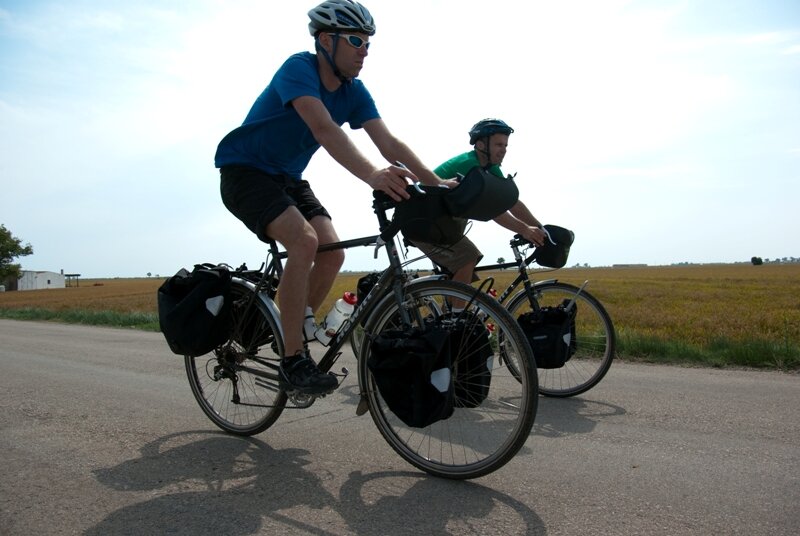 It was certainly a strange massive expanse of flat reedy swamp - but much of it appeared to be actively farmed as rice paddies and there was a lot of rubbish all over the place. Not exactly virgin delta by any streatch of the imagination and the birds were not exactly plentiful - but the mosquitoes were! The whole delta and its scattering of small villages seemed very cut off from the mainland and the atmosphere was a bit odd at times - like you weren't really welcome round here or somethin', if you get my drift. Sitting down to some sandwiches after filming us riding up and down the rice paddies a few times we were wondering how it was going to be possible for us to cycle from the Ebro to north of Tarragona - about 90 km - starting at 430pm in the afternoon. First we had to cross the Ebro - we did that one on of those rare and disappearing transport systems - the car ferry.
Crossing the Ebro by car ferry and interviewing Tomas the ferryman.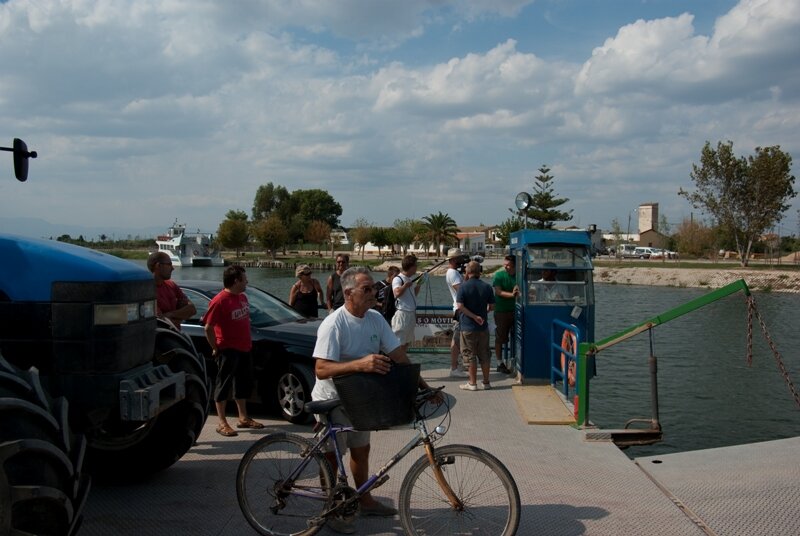 The driver, called Tomas, was very nice and let us board and re-board to get our filming done and also told us that it was possible Hannibal crossed using similar transport guided by his boating ancestor more than two thousand years ago. The days of this Ebro car ferry are numbered - a big cement bridge extends into the water alongside and is half built. From the other side we did few circles in the local village and then put the pace on to try and reach our campsite by nightfall. Friendly locals guided us out to the highway in their car but soon afterwards Ben got a puncture, his first of two that afternoon! And both Ben and Sam had headaches. Ben still managed to drag us all up a very long hill in nasty traffic and Sam bolted along the straights and somehow we managed to make a triumphant entry into Tarragona. It's wide promenade down to the beach lined with attractive buildings was the most elegant thing we'd seen all trip. We arrived at a fantastic campsite full of big cypress trees alongside the beach and to a welcome pasta pre-dinner prepared by our Director Robin. As you may know, you get so hungry on long bike rides all you want when you arrive is food!

It was rainy in the morning but we went in to Tarragona to get some breakfast and film some footage of us around its Roman ruins that include an amphitheatre and also other impressive remains like its castle that dominates the centre of town. It was slippery and wet as we set off for Barcelona along a mixture of beach promenades and difficult highways - like the good old N340 that has accompanied us all the way from Cartagena. We didnt actually ride into the city - a toll road stopped us which it would have been illegal to bicycle on and filming means riding backwards and forwards and taking inland scenic routes off the most direct path so missing that section was justifiable in terms of our route - but we got dropped off by our van on the other side of the city and did a pretty grim streatch of coastal road from Bacelona to Mataro and on to our campsite in rush hour traffic and rain.

But it was lovely and sunny the next morning as we headed for a big location in terms of the telling of our Hannibal story - the ruins of the ancient Greek city of Emporias
Rainy in Tarragona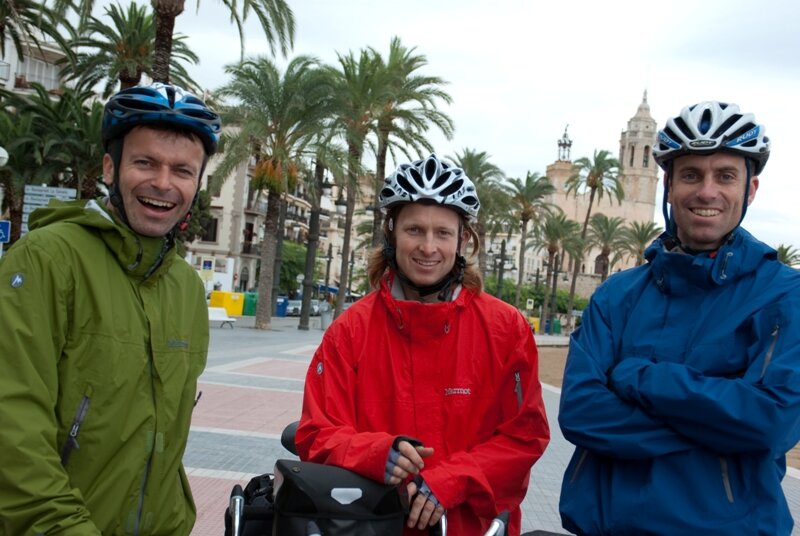 ---