When Will and I arrived in Florence a shattered, slim and sunburnt Sam and a 5k ride greeted us to our Hotel. This was fun at the time because by this time we had packed our trip full of beers already. Will was particularly excited because on the corner of every street stood prostitutes in their underwear. The distractions almost forced him to crash on day one, he had some "close shaves" I tell you. Such incidents were labelled "the prostitute wheel wobbles" and later became a feature in our riding as we hit the relentless and steep rolling hills of the punishing Tuscan, or should I say Spartan challenge that lay ahead. The 'prostitute wheel wobble' would begin with a quick shimmy of the handlebars as Will's ogling eyes would lead his head away from the road in front, around his curb side shoulder to take in the pre-Raphaelite bouncing bevy of beauties that lured motorists to deviate from their routes. A warning parp of a passing horn would snap Will from his reverie, causing him to hastily correct his trajectory that would release latent kinetic energy into his bulging panniers that would set the read end of his velocipede waddling like a duck. The flexing of Will's rear end was often our salvation as we several times reached what we thought was the limits of our endurance. A quick waggle-dance of Will's wheeled wonder was all we needed to fill our harrowed lungs with fresh gusts from our twentieth wind and speed our way onwards to Rome. By the way, contrary to popular myth, all roads do not lead to Rome. In fact, I suspect some one at the BBC has a most mischievous sense of humour as each of the Wood Bros.' GPS told a different story about which route we should take. I doff my hat to Mr and Mrs Wood for breeding such even-tempered offspring.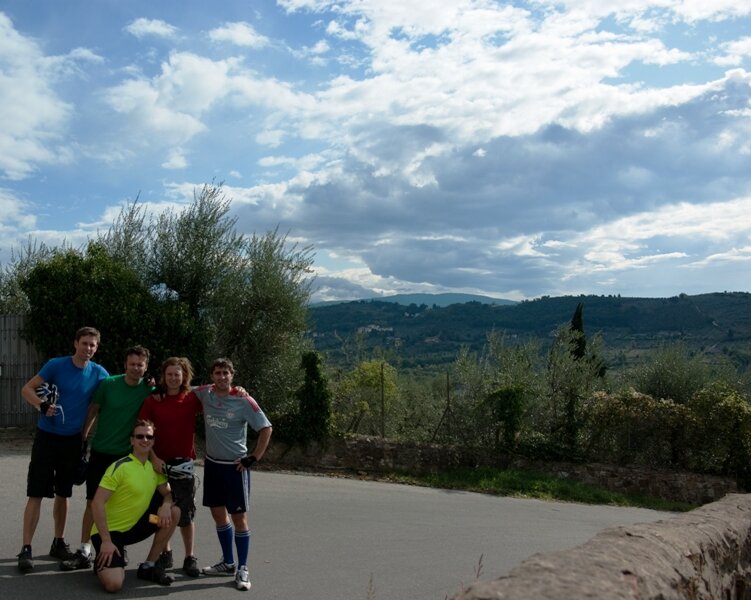 The way out of Florence..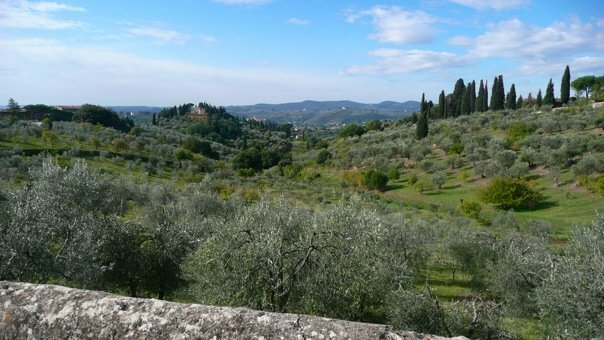 The way out of Florence II..
So after a late night, we began our 1st days riding around Florence taking in the views as we rode. Fresh off the boat I was nearly killed by a fast moving ambulance, an enthusiastic and daring tourist and a suicidal city pigeon. Will took photos and Wood brothers watched, laughed and relished the injection of new and entertaining blood.
Our initial (Will and I) experience of sampling what Sam, Ben and Danny have been faced with over the past 6 weeks truly gave us an insight of how difficult their adventure has actually been. We have three modest brothers here who never really tell the full story to add credit to their efforts. Will and I faced the first 2K's of our exit out of Florence up some seriously steep hills; so steep that Hannibal's elephants would have refused to take on and gone on strike had they been French elephants. Nothing new to the Woods and I sensed they had done much steeper. It was fair to say we were in pieces when we finally reached the top. Will was overtaken by a veteran in his olive delivery bike (may have been a relative of Hannibal) within the first 500 metres. Will also had this phantom gear changing issue, which forced him to stop. He would somehow make his chain slip off and grind our climb to a halt. I was personally all over it but I sensed the Wood brother's anger because they lost the momentum gathered on their 4-ton tour bikes. Later in the ride Will's derailleur issue became more and more of a happy event as it forced us all to stop and wait for him. A very much-needed call after a flat out ride of 50K's!
We were finally rewarded with a downhill roll leaving Florence behind us. The views were incredible. The quiet road (quiet because Will and I couldn't speak) led us past vineyards and farmhouses as we headed to our lunchtime destination (5 hours of mainly uphill climbs) at a small town called Chianti. The Woods pulled out a mini camp stove from their bottomless panniers and knocked up a nut, raisin and rhubarb cous cous number while Will and leant on each other sharing my asthma inhaler. It became very apparent that these boys are true touring professionals and carried an item for every need. They even have team coloured plates, cutlery (double ended with a folk at one end and a spoon at the other, oh and of course one edge of the folk was serrated) and bowls. Will and I used their multi-purpose Leathermans which practically had everything less an oxygen tank).
After lunch and once Will had completed his yoga session, we struggled back to our bikes.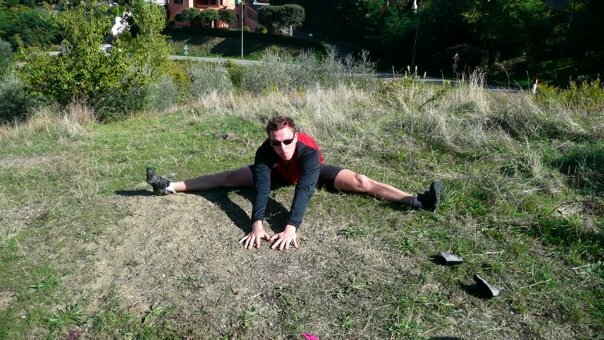 Will's Yoga
The next 5K's were free. A downhill that led us away from the hills in which I took the opportunity to stand up all the way and give my ass cheeks a break from my solid bike seat made of wood. Will had unfortunately forgot to bring the Elizabeth Arden 48hour cream that he had promised was Lance Armstrong's secret weapon. I realised in that moment that the reason the world's best cyclists are so small and light is because they grate off most of their pelvic girdle like cheese on their saddles as they weave and wind their way through the strenuous hill climbs.
Sore Perry
8 hours later, 90 pints of water lost, 1 inhaler used and 100 kilometres of mainly uphill riding, we reached our destination, Arezzo. Little did we know and one thing that the Wood brothers satnavs never picked up was that Arezzo's annual Veterinary and Gastro Festival happened to be this weekend. The population of 5 thousands rises to 50 thousand for 2 days only. Busy hotel action forced us out by train to a town called Cortona 20km away. Not great news while the temperature had now reached 5 degrees. Cortona was a beautiful place which sat at the TOP of a 3K steep climb. So steep in fact that Will and I walked it, while still managing to keep up with the Wood brothers who remained in their saddles as their mind boggling gear ratios enabled them to scale all but a vertical wall like mountain goats. Danny insisted on repeating "just 1.5k's left" every 500 meters which drove us mental. The wind was now 80 knots per hour, the temperature was -20 degrees and it was 9pm. After checking in to what seemed like the warmest hotel on the planet, we finally ate dinner and paid tribute to the fitness levels of the Wood brothers. Will insisted to pay for dinner (I think it's because we had heckled them for losing so much weight over the past 6 weeks since their journey began. it was Will's way of ensuring that they eat a good meal). All jokes a side (I will come onto jokes), these boys really do work so hard behind the scenes and it's incredible. The Wood Brothers are the antithesis of Gordon Ramsay; no swearing, no finger pointing, no grandstanding; just an unerring focus on the objective and the best way of achieving it. In the House of Wood, teamwork makes the dream work.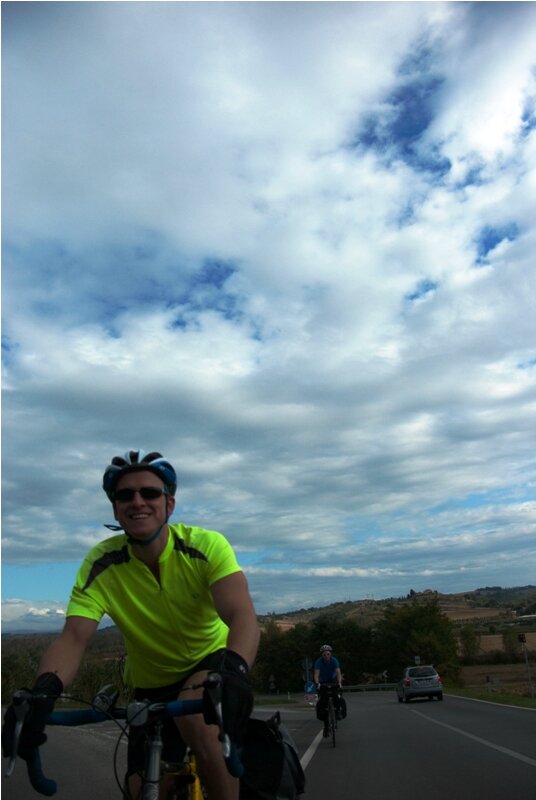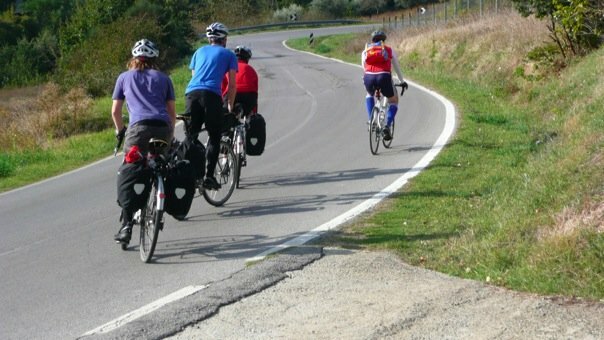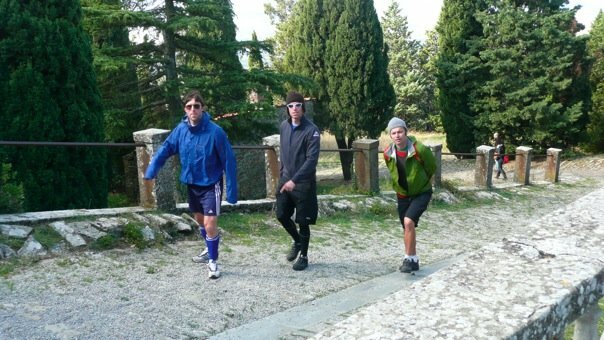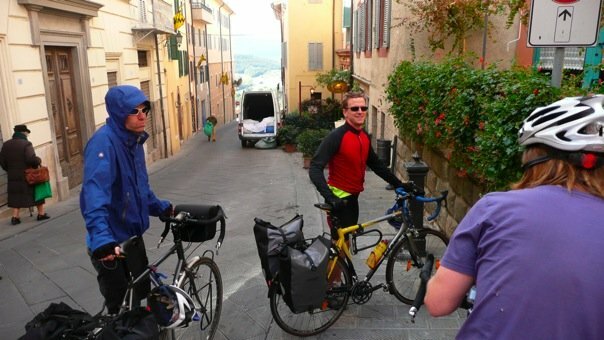 Ladies and Gentlemen: Hannibal the Carthaginian would have had Hannibal the Cannibal for dinner! The drivers of a man that led an army composed of such disparate factions across hostile and untamed lands to pit its wits and mite against one of the world's most experienced, wise and formidable adversaries (Rome) boggle the mind. So far from home and hearth, from the touch of a loved one, yet so strong and deliberate in his actions. Few of us could imagine this level of commitment and pro patria amore. The Woods were moved by this tale and rallied to it far too many moons ago to count. We have been fortunate enough to enjoy the fruits of their concept and we are proud to be part of history in the unveiling. Hannibal, those who were just almost about to die salute you. (Classical allusion for all you oiks that went to comprehensive schools!)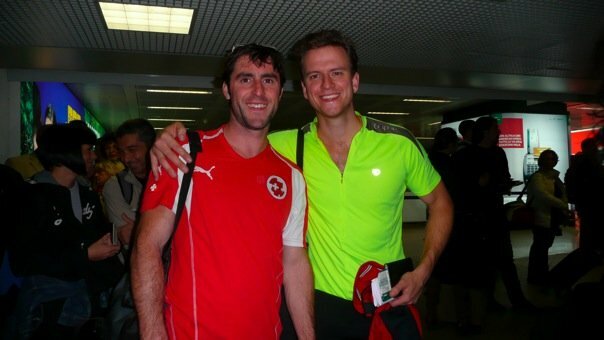 ---