When you cycle day after day the rhythm naturally brings music to your mind. At the beginning of the trip I tended to hum fairly epic stuff as the wheels turned – tunes from the film The Dark Knight for example: http://www.youtube.com/watch?v=GfO3szikvnI&feature=related or some of those ponderous but very catchy Michael Nyman movie sound tracks, like, The Cook, The Thief, His Wife and Her Lover: http://www.youtube.com/watch?v=ZG_-iTyQdog
They all seeemed to help with the peddling. As the trip became never ending, and getting on the bike a little harder, the melodies got worse (arguably) but adjusted appropriately, and we even started to vocalise them. I cringe a bit to admit it, but Ben started this one and Sam sang snippets of it too: That´s Just the Way it is Baby by the Rembrandts, was hard to shift from my head as getting into the saddle just one more time started to feel like that Bill Murray film, Ground Hog Day: http://www.youtube.com/watch?v=T_yDWQsrajA
Silly as it may seem, the on camera side of things and the desperate search for conversation topics made us fantasize about who would be appropriate to play us in a Hollywood version of our BBC epic. We had this conversation with the help of Andrea our Director and it was in no way a serious one, just to pass the time! We brothers thought Sam should be played by David Wenham, Ben by Jim Carrey and me by Joaquin Phoenix. Andrea thought Ben should be played by Keanu Reeves, me by Tom Cruise and from what I recall, Sam by Russell Crowe! We are contacting their agents…
This part of Hannibal's Trail was about discovering the parts of Italy the tourist brochures have generally forgotten. Trani, is on the Adriatic coast of Italy and near Cannae where Hannibal won his greatest victory against the Romans. Trani is a beautiful, old stone town where the main street is paved with large, slipperly slabs and the port area is like a mini-Marseille. If you think you have read about Trani before, you are right – this leg of our Italian trip is a a return to the locations we had already cycled, in order to do the filming. This time in Trani we had a lot of fun in a local barber run by a friendly Italian called Frank. He and his two middle aged male assistants gave us all the sort of old fashioned shave you only thought possible in spaghetti westerns.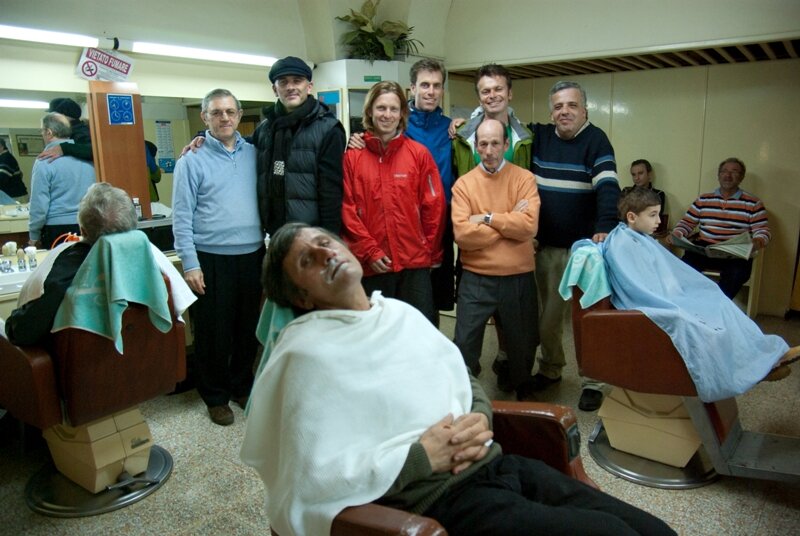 After our clean shaves..
After Trani, we headed to the deep south of Italy. It´s a curious place, in some ways reminiscent of our cycling in the south of Spain where rubbish and ugly buildings can predominate a little too much. For western Europe, southern Italy has surprising poverty and neglect. In the port city of Taranto, for example, the old town centre is literally rotting and collapsing. Rows of abandoned buildings and others that look difficult to inhabit, but are lived in by people whose looks and gestures remind you of those black an white pictures of sufffering Italians in rubble strewn streets post World War II. But this is 2009!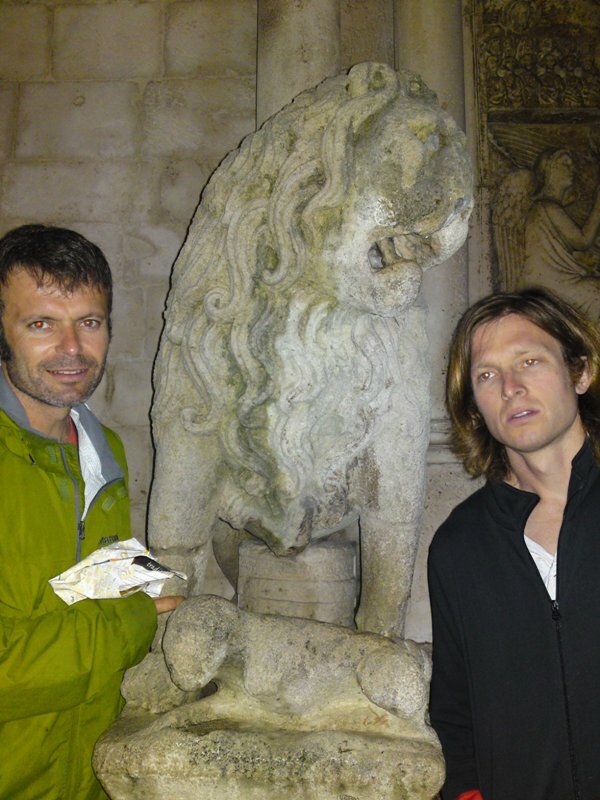 Statues at Altamura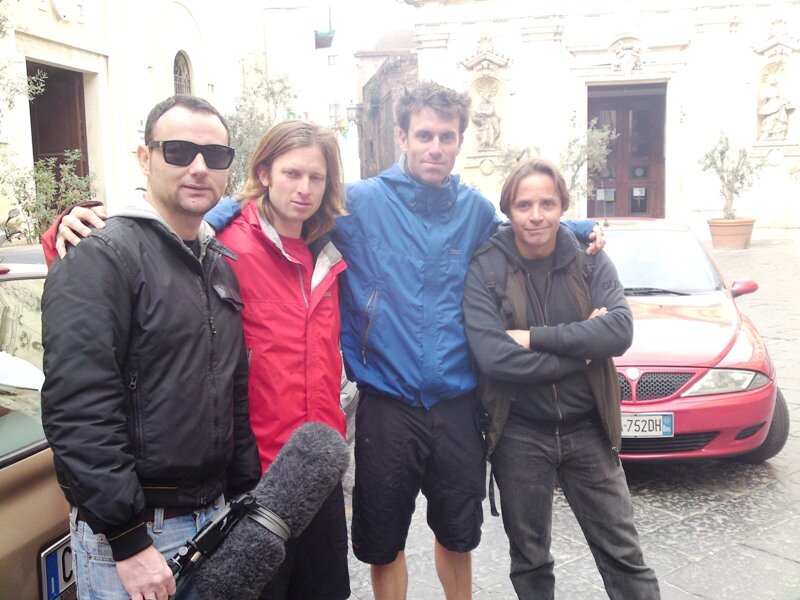 Riccardo Chiaradia, a local Archaeologist who helped us find the hotspots of Taranto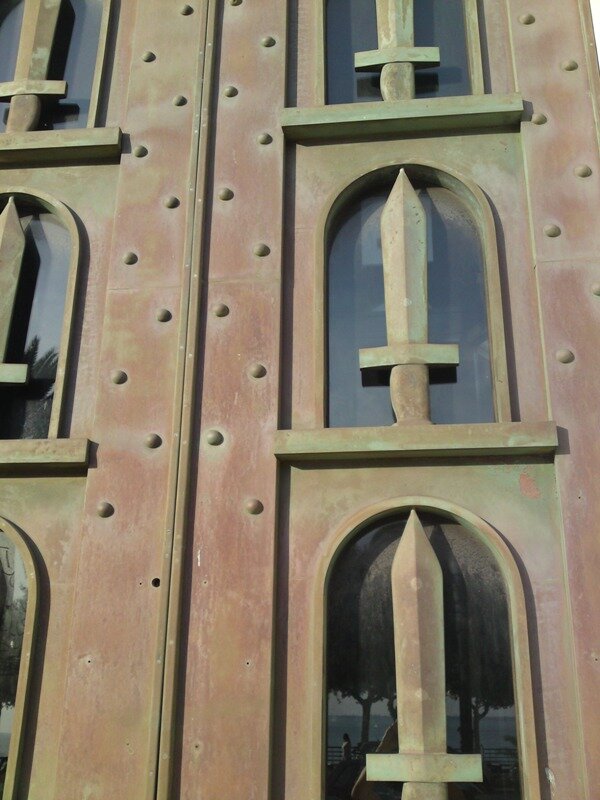 Mussolini's doors at Taranto
One other difference – I always expected Italian restaurants to be chatty places, and they generally are in the centre and north. Here, in the deep south, everywhere we ate – whether it was lunch or dinner - had at least one big television screen blaring out banal chat shows. No-one who was eating seemed to talk as much as you hoped they would, instead their attentions were distracted by the box. This drove Francesco our Italian producer bonkers and at least once he saved our sanity by asking restaurants to turn off the tv.
We were all looking forward to visiting Crotone, situated where the instep part of the Italian foot, becomes the foot proper. This is one of the few places where the archaeology and the Hannibal literature coincide. Our main ancient literary source, Polybius, writes that Hannibal recorded his achievements on a tablet that was fixed to a column on the Temple of Hera that stood here. On a streatch of green coastline there is an archaeological site and a column belonging to this temple still standing. Unfortunately this lone column was surrounded by a wire fence – but it was still an atmospheric spot where we were encouraged by our Director Andrea to mimic Hannibal and reflect on our achievements. This made a lot of sense but at the time seemed like a potentially egotistical and difficult thing to do with the cameras rolling. Sam and I were both impressed with how Ben got around that by saying that our biggest achievement was getting on so well with each other most of the time during our weeks together on the road. On an unusual, intensive trip like this one, I think we would all agree, that just saying nice things, even if they may not be entirely true, helps them to come true. I certainly felt that after Ben's statement.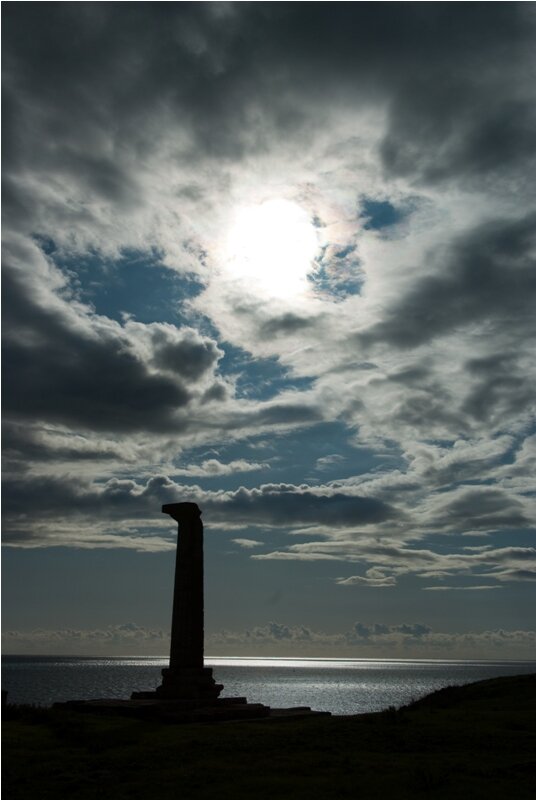 The remaining column of the Temple of Hera at Crotone
From Crotone, we slipped down to the very toe of the Italian mainland – to Reggio, on the Straits of Messina. This is a mythical place where you can look across a narrow slither of sea to Sicily, a rising green hill with buildings staring back at you from only 2 miles away. In Greek mythology two sea monsters were on either side of this strait. We didn't spot them – perhaps because the ferry ride was so quick.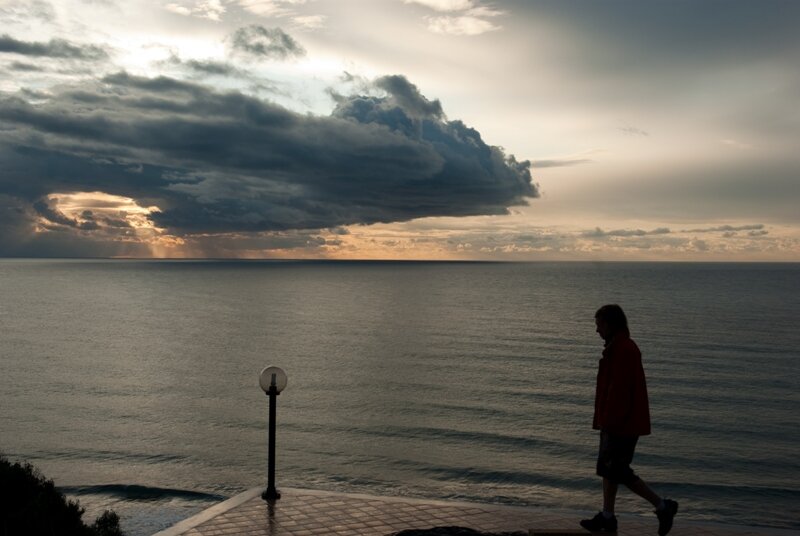 Early morning filming near Crotone
We dashed across Sicily – it is not part of Hannibal's trail. After a night in Trapani, on Sicily's southern side, we boarded another ferry to head for our final destination – Tunisia, once the home of Hannibal's Carthaginian civilization. While we were boarding we met Cristof, a Belgian, who was about to start an astonishing, solo bike ride that would begin in Tunisia and take him all the way to India! He said he was going to take a year and a half to do it! We wished him luck!
It's always exciting arriving at a port city by boat. At sunset our ferry cruised in towards the port of Tunis. To the right we could easily make out the peninsular of pretty white buildings that is Sidi Bou Said. Just below that we knew there was what remained of the old Punic port and beyond that, Carthage itself, now a wealthy suburb of this bustling city. The final leg of Hannibal´s Trail and lots left to explore!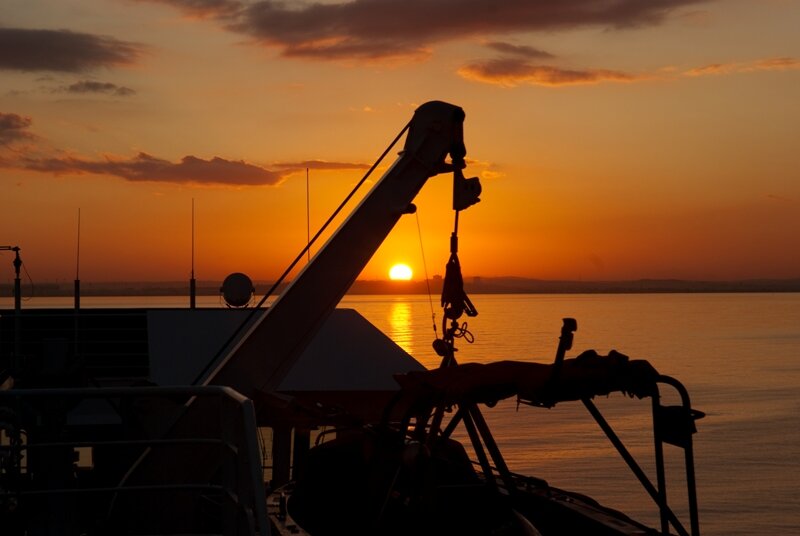 ---