Specific Absorption Rates via Caerleon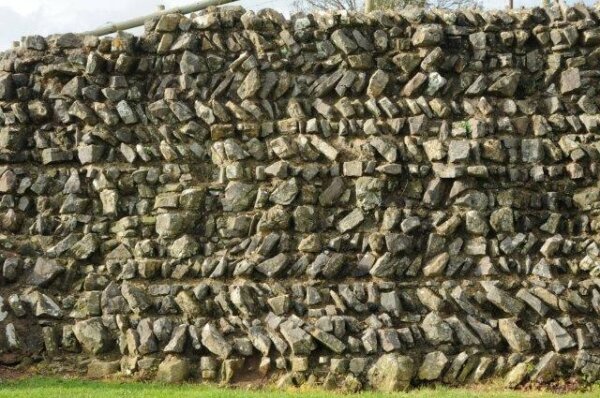 We went to Wales recently for a short break knowing we were entering a part of the UK with some its most intact Roman ruins. The Romans invaded Wales in 48 AD. Some local tribes resisted but as far as archaeologists can tell the major forts in the south stopped being fully garrisoned by about 120 AD. The Welsh became Romanised and supplied the empire with gold, copper and lead but the landscape didn't lend itself well to Roman industrialisation so as the mines were exhausted they were abandoned and at the far reaches of the empire Wales never become a and sophisticated and cultured "colonia" – some say it still hasn't! (not me)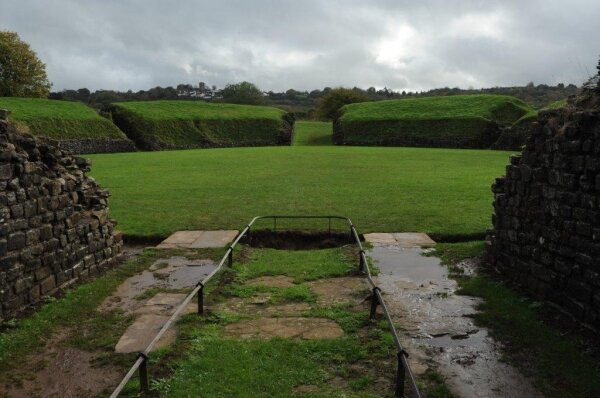 Caerleon Roman Amphitheatre
In the rolling hills of Wales you will suddenly find yourself on a dead straight road and assume it must be Roman. But before you can fully appreciate the ancient engineering feat half a dozen mad Welsh drivers going 5 times the speed limit will try to run you off the road. So we were feeling very lucky to arrive safely at our first stop; Caerleon. It was a legionary fortress and one of two responsible for the control of Wales (Chester was the other). The Second Legion Augusta was based here and they left behind lots of ruins; the best one being the only fully "intact" Roman amphitheatre in the UK. As we were appraising the ruins in great scholarly detail we could hear the rabid parents of an under 12s rugby match next door screaming "kill him", "smash him", "get him" and for once it seemed appropriate!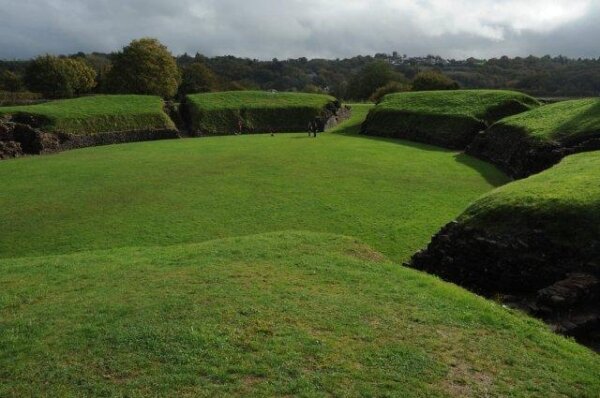 Caerleon Roman Amphitheatre
On our way home we stopped at Caerwent which apparently has the best preserved Roman Walls in northern Europe. The full circuit of walls that contained the ancient town is still intact and the southern side are the best preserved; still 5 metres high in parts. We had no run-ins with the locals to report here – although an elderly woman with a Labrador did stare at us the whole time we were there and then tailgated us out of town for a few kilometres and overtook us on double yellow lines around a blind corner.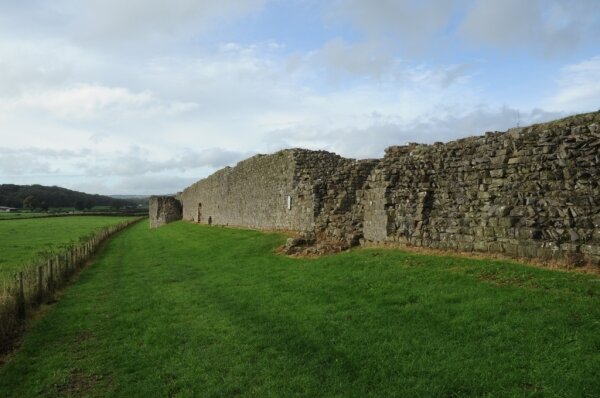 Caerwent Roman Wall
This is totally off topic but we happened to be staying in a really nice Bed and Breakfast and we got talking to some fellow guests. A very interesting couple; Scientists who work for a shady government organisation. Shady only because of my memory – they did tell us who they worked for but I have completely forgotten the name. Anyway they do health and safety research to make sure citizens such as you and I can continue our lives of mass consumption without fear of endangering ourselves by purchasing hazardous or untested products.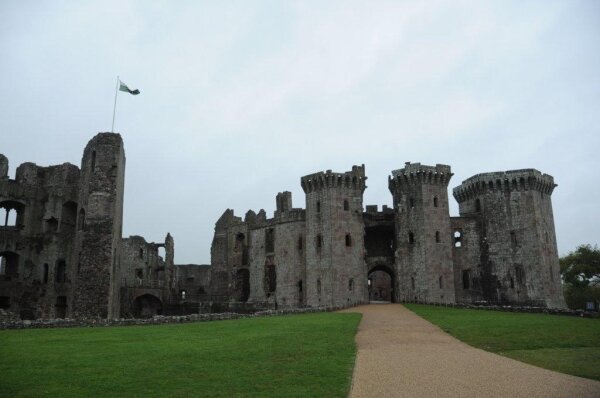 Raglan Castle
They have been doing a lot of research recently on the effect of mobile phones on our health. They said that mobile phones don't seem to be harmful under normal usage but they have been attempting to raise awareness of the harm they can do in abnormal usage conditions; specifically deep inside buildings or inside aeroplanes. According to our new friends their findings have been suppressed by big business lobbying firms – on behalf of mobile phone manufacturers and telecoms giants. So I thought I would let our 3 readers in on what they told us.
Mobile phones have a specific absorption rating (SAR) which is a measurement of the quantity of energy from your mobile phone that is absorbed by your body. Under normal circumstances this absorbed energy is very low – most governments have set a level under which manufacturers have to keep their handsets and this is typically 1.6 - 2.0 watts per kilogram. It is thought at this level adverse health effects are negligible.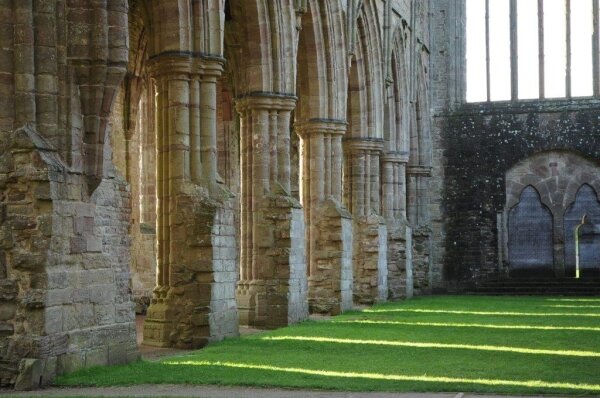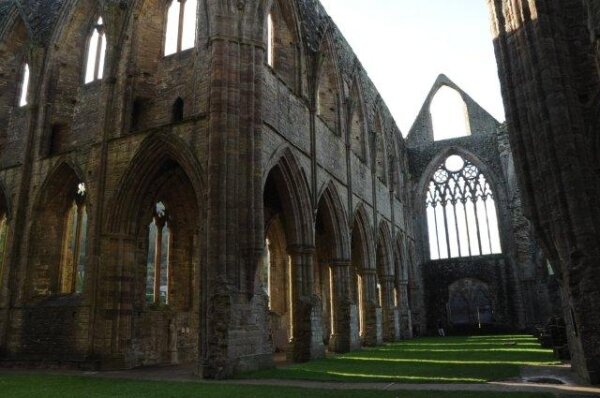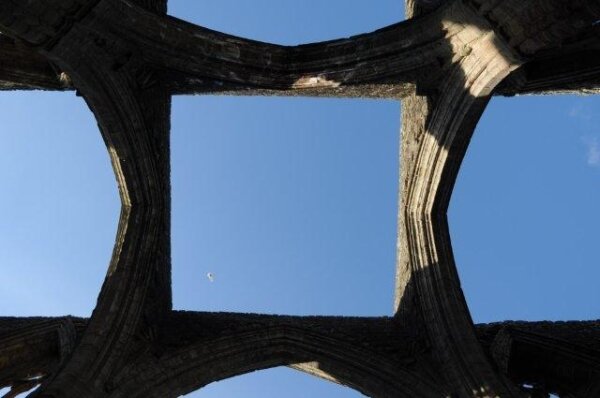 Tintern Abbey
I'm sure you've probably read the typical mobile phone usage guidelines which advise you to limit your calls inside buildings, use the phone in open spaces and with a hands free device as often as possible. There is good reason for this advice as most phones automatically increase their power output when the signal is bad, thus increasing the SAR value of the phone which fries your head a little bit more. Within a building it makes sense that the phone would struggle to get a signal through metres of concrete but within an airplane fuselage the physics is slightly different and apparently far more damaging. Our fellow B&B guests claimed that the manufacture of a typical passenger jet causes a direct and dramatic increase in the SAR value of a mobile phone. The construction materials as well as the shape all conspire to concentrate the electromagnetic radiation from the phone inside the aeroplane.
The passenger aircraft we fly in are usually designed using the Whitcomb area rule. This rule is derived from something called a Sears-Haack body which is an aerodynamic shape with the lowest theoretical drag – imagine a cigar thinly tapered at each end we were told. The passenger aircraft we fly in are also mostly constructed using a "stressed skin" technique and with lightweight high strength alloys (aluminium, aluminium-lithium, titanium, steel and more recently composite materials such as carbon-fibre reinforced polymers). On top of all this some (not many) airplanes have solar and galactic cosmic radiation shielding designed to mitigate the effects of the more intense radiation coming from space experienced at high altitudes. The problem is that this Sears-Haack body shape, the type of construction and the materials that make up the fuselage of a typical passenger jet trap and therefore significantly amplify the radiation emitted by a mobile phone. If the plane has radiation shielding this only exacerbates the problems – the shielding might keep cosmic radiation out but it will also keep mobile phone radiation in!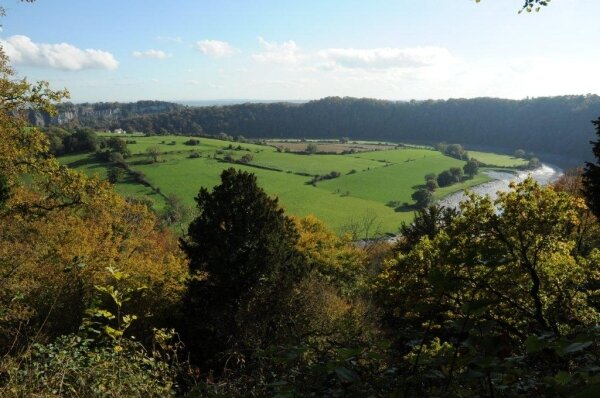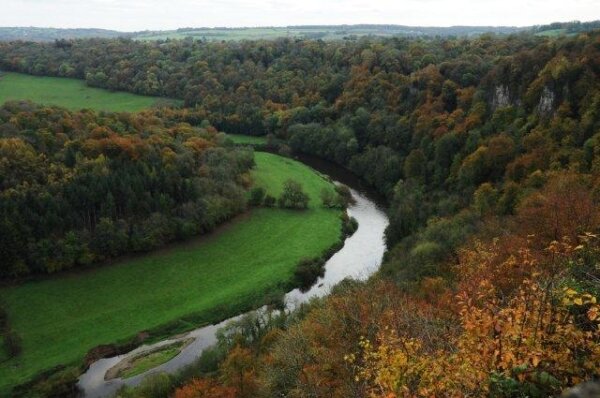 Wye River Valley
I didn't understand everything our new friends were talking about but it sounded like the frequency and/or amplitude of the emitted radio waves cause a natural resonance on the stressed skin of the air plane. The radiation doesn't exit the craft not only because of the high strength materials but because of its unique Sears-Haack shape. The radiation is instead refracted and endlessly bounces around within the aircraft causing a much higher effective SAR value.
The scientists did say there is currently no conclusive public proof stating that mobile phones cause cancer or other health problems but some of their experiments sounded telling. It is easy to measure the heating caused by mobile phones; higher SAR values mean more heating of the tissues closest to the phone. Apparently eyes are especially vulnerable as blood doesn't flow through them meaning they don't dissipate heat very well. In the most graphic terms these scientists explained that in their lab experiments rats eyeballs would expand and eventually explode when exposed to high radiation levels inside a scaled down version of a Sears-Haack body!!
So next time you land somewhere and the air stewards announce please leave your phones off until you enter the terminal building perhaps you should? And if someone near you doesn't you can tell them their specific absorption rate has just gone way up and that it's possible their eyeballs will explode!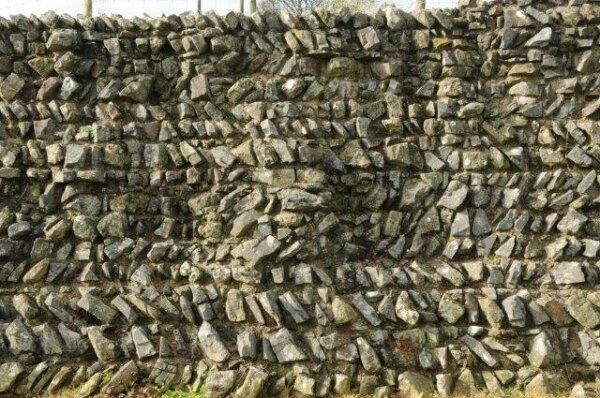 ---